The Umbrella Basket
"Do not forget to entertain strangers, for by so doing some people have entertained angels without knowing it." Hebrews 13:2 NIV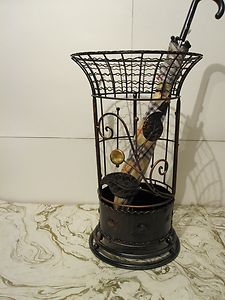 Hosting is a gift that the Lord has blessed me with. I enjoy opening my home to friends and family. I equally love entertaining strangers. There is great delight in sitting cozy around the dining room table talking about life and love and learning. The spirit of God is present in abundance when we are gathered in fellowship.
I love the planning and preparing of entertaining. I like things to be done in excellence, as unto the Lord. Admittedly, I like things just so…but then there are the things I cannot control; namely the weather. It is so difficult to predict what the weather will do in our part of the country. We live in the humid climate of Virginia and in the spring and summer months, more likely than not, there is a daily thunderstorm. The unpredictability of wet weather has birthed an 'umbrella basket'.
On my front porch rests an old rod-iron plant stand that doubles as an umbrella basket. It is perfect for those times guests come and they are without an umbrella. We can greet them at their car and usher them into our home. It is also great for when wet umbrellas need a place to drip and dry.
I encourage you to open your home in fellowship. I encourage you to rest in the Lord's presence. I encourage you to delight in the gift of friends and family. I also encourage you to not fret when circumstances are beyond your control, for in those times we find the most creative solutions!
Copyright © 2008-2015 Samantha Ewing
Read more about the writer: Samantha Ewing
---
Post Your Comment...
---