Taking Time to Rest as a Family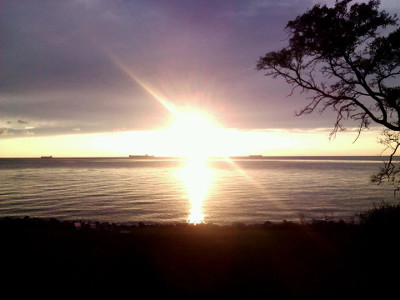 "Be still and know that I am God." Psalm 46:10 NIV
This past summer proved to be a summer to remember. It started out with an unexpected injury, but truly are injuries ever planned?
My husband works for an alternative school. His kids come from difficult communities. They are products of broken homes and broken ideals. He serves as a beacon of hope through Christ to many.
On one particular Wednesday, the second to last of the school year to be exact, my husband was injured. In an effort to subdue a fight between students he was caught up in the tussle. The young man my husband was trying to guard fell on Rick's leg, breaking it severe enough to require surgery. The injury proved to be a blessing from the Lord.
I will begin with this--my husband is a mover. He likes to be in motion. He tinkers and fixes and mows and weeds. He seldom sits to take a break save for the obligatory Sunday nap. He uses the resource of time wisely. He loves playing catch and bike riding. He is a hiker and swimmer and lover of activity. A broken leg was not on his agenda.
Rick had fully intended to supplement his regular teacher pay with summer school teaching. Our family had planned this into our summer. We knew that with in a little more than a month's time after school got out we would have Rick home for three solid weeks to travel, play, beach and enjoy the warm month of August. God's plan was different.
Rick and I had been praying to be still. To have time to enjoy ourselves, our children, our family. We wanted to edge out time between the coming and going of daily life to just be still. Still in a way that we could press deeper into the Lord, deeper into our family, deeper into our marriage.
Many of you understand, I am sure. Being a busy family with young ones can wear you out in the best way. It is a time of great juxtaposition. A time when you are exhausted and energized from moment to moment. Unfortunately, the management of the wax and wane of activity and rest had left us craving stillness. A re-grouping per se. The Lord answered our prayer in a most unexpected way.
We are called to love our spouses as Christ loves the Church. We are called to care for them and love them sweetly always. We are called to stand in the gap for them and intercede for them. We are called to selflessly meet their needs. We are called to depend on God in all circumstances.
We could have met this perceivably inconvenient accident with disgust and fury. We could have spent our time questioning…Why? How? Really? But, in an instant, at the moment it became evident that our summer plans would change, the Lord filled us with peace and a longing to get through this ordeal together with Him in His grace and love. We serve an amazing God. We serve a God who loves marriage and family. A God who sees a need for slowing down and stillness and honors the cry of our heart.
Our summer was amazing. We spent time together that was unrushed. Our moments were of quality and quantity. We sat lazily in the backyard watching the grass and weeds grow. We accepted the service of others…meals, lawn mowing, childcare. We accepted their gifts of time with deep abiding gratitude, for we knew it was the Lord lavishing us in His goodness. Our accepting was a stretch in our strength and humility. It is most often that my husband is the one mowing lawns or lending his talents as a handy-man. This summer he was blessed with reciprocation. As humbling as it is for a servant to be served, the glory is in the understanding of God's amazing grace.
We learned that sometimes it takes a major incident to slow us down enough to bask in His glory and love. We learned that no matter the situation, no matter how difficult the circumstances, there is always Joy in Christ.
I am thankful for the broken leg, because in the brokenness of bone, there was a repair and strengthening in our family. God wrapped His loving arms tenderly around us and secured us in His stillness. He offered us the gift of time together, uninterrupted.

Copyright © 2008-2015 Samantha Ewing
Read more about the writer: Samantha Ewing
---
Post Your Comment...
---