< Back to Kitchen Keeper Recipes
Winter Country Soup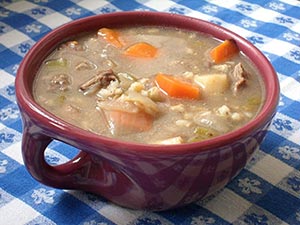 This soup is perfect for any cold and snowy day! Feed your whole family and even have some left over!
Ingredients:
1 package (14oz.) smoked sausage, cut into ¼ inch pieces
1 large sweet red pepper, cut into ½ inch pieces
8 shallots, chopped
1 tablespoon butter
8 cups fresh kale
8 cups vegetable broth
3 cups frozen corn
1 can (15oz.) great northern beans, rinsed and dried
½ teaspoon cayenne pepper
¼ teaspoon pepper
¾ cup uncooked orzo pasta
Directions:
In a dutch oven, sauté the sausage, red pepper and shallots in the butter until the vegetables are tender.
Add kale; cover and cook for 2-3 minutes or until the kale in wilted.
Stir in the broth, corn, beans, cayenne and pepper.
Bring to a boil.
Reduce the heat; simmer, uncovered for 20 minutes.
Return to a boil.
Stir in orzo.
Cook 8-10 minutes longer or until pasta in tender
Yield: 12 servings
Copyright © 2008-2015 Alyson Shedd
Read more about the writer: Alyson Shedd
---
Post Your Comment...
---