Cincinnati Chili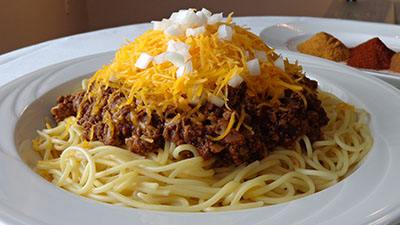 The warmth of the home during the holidays is something special to share with both family and guests. By showing hospitality we extend the warmth of Christian love with others. This recipe is one of our family's favorites and is inspired by our home town. Serve it this holiday season to your family and friends and create a spirit of hospitality in your home!
Ingredients:
4 pounds ground beef
3 [29 oz.] cans tomato sauce
2 [14 oz.] cans crushed or pureed tomato
2 onions, chopped
3-4 tsps. Garlic, minced
2-3 tsps. Cinnamon
1 tsps. Allspice
¼ tsp. pepper
3-4 TBSP. chili powder
1 TBSP. white vinegar
2 bay leaves
Directions:
Brown meat with onions and garlic, drain meat from the juices
Add all other ingredients, bring to a boil then simmer for 30 minutes.
Transfer to crock-pot and keep on Low until ready to be served.
For "Cincinnati-Style" serve over a bed of angel hair pasta, top with finely shredded cheddar cheese, then top with oyster crackers.
Copyright © 2008-2015 Alyson Shedd
Read more about the writer: Alyson Shedd
---
Post Your Comment...
---