The Blessing of Many Children
Over the past few years, I will occasionally be approached by someone who is curious about the number of children we have. I very politely give my "party line" answer: "We believe children are a blessing from the Lord!"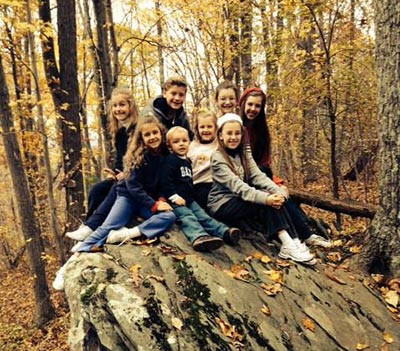 That will typically either end the conversation . . . or spark a deeper one, in which I always enjoy encouraging others to trust our Father in Heaven who is the Author of Life to determine our family size. He alone knows what is best and what we also can handle!
For the purpose of this article, I decided to interview our eight children and ask them what their thoughts were about growing up in a large family. Here we go!
OLIVIA [age 16] "Because I would love to be a teacher someday, having lots of brothers and sisters gives me many opportunities to help them throughout the day. I also have a great cheering section when I perform in Ballet productions or compete in competitions. Their love and support makes me feel secure."
SOPHIA [age 14] "I love cuddling up in a big chair with my two-year-old little brother to watch Jay,Jay the Jet Plane. I also have five sisters I enjoy practicing hairstyles on each day."
STEPHEN [age12] "I love the constant activity-filled environment of our home. Also, when I mow the lawn, my sisters have to do my indoor chores!"
AVA [age10] "Everything from meal preparations to chores gets done faster and makes it more fun! I love playing music with my family and making up duets with my sister."
SUSANNA [age 8] "Everyday I get to play with my sisters and I don't have to wait until "church-day" to see friends. I get to do school everyday with my best friends. Because we are home more, we eat healthier."
LAURA [age 6] "I like it, because I have a forever best friend. And my older sisters teach me how to play games."
JULIANA [age 4] "It's great because I have a big brother to protect me. And because I have big sisters to sleep with when I feel afraid at night."
BRENNAN [age 2] "I wuv Olvie" interpretation… "I love Olivia."
I hope this has inspired you to consider being open to God and allowing Him to add even just one more child to your household . . . We have discovered that no one, including the children, regrets the additional blessing God brings into our home with each new baby!
Copyright © 2008-2015 Alyson Shedd
Read more about the writer: Alyson Shedd
---
Post Your Comment...
---