Adorable Fashion Accents for Little Ones
Okay . . . so you may notice that this is the first and probably only time you will find one of my articles being written in the fashion section. It's true! I am not the fashion queen knowing all the latest looks and greatest seasonal colors. (In fact, typically, I'm just happy to get out the door with fresh clothes on my body that are actually seasonally appropriate.)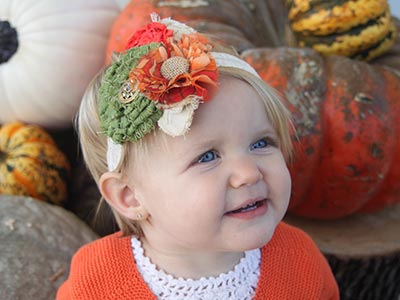 But the fashion tip I share starts with the ol' saying that it truly is the little things that make the biggest difference. You know what I mean . . . that little touch of lipstick right before you walk out the door or that beautiful necklace that becomes the focal point for all your face-to-face encounters throughout the day. Little fashion tips and tricks that I've learned along the way that are not earth-shattering but that really enhance what God has already created beautiful.
This latest and greatest fashion tip though is not only for us ladies but also for our little munchkins. (I don't know about you but I have more fun dressing up my three little girls than I do myself sometimes.)
It is the marvel of the head pieces. Adding a splash of color and pizzazz in just one little matching headpiece can be just the "cherry on top" to make any outfit stunning. It's quick, it's painless - nothing special involved just a little "kerplop" like a gift bow on your precious treasure. I don't know why I think this is such a cool little tip and trick but it really makes such a difference.
Try it and be amazed at the compliments you get on your little cherub. "Oh my . . . look at that little darling. I just love her little hair bow." And that can be your moment to reply, "Thank you . . . her heart is just as lovely too, if not more," to remind ourselves as well as our little dears that Yes, it is fun and wonderful to present our best on the outside but that also God calls us to live a life of beauty on the inside.
Oh how that makes my heart sing . . . that God finds me beautiful on the inside first and then on the outside as well. Makes me want to just put a big Hawaiian flower in my hair, smile big and do a hula right here in the middle of my office! After all, isn't it really those little things that can make us feel most special? And aren't we as mothers supposed to train up our girls to feel beautiful both inside and out?
Well, enjoy your new (or maybe not so new but fun still) quick fashion tip. You and your girls will have such fun choosing some new pieces to spice up some old outfits. (Talk about a great way to save on clothes shopping . . . just add some zip zap zop to your current wardrobe through a few new head pieces and create a whole new look.)
Also, if you're anything like me, you may appreciate a pointer to guide you in the right direction (like when Dorothy needs to find her way to Oz and the Scarecrow is there to give her a hand). One of my most favorite places to shop for original and beautiful head pieces plus more is addie-grace.com. Happy Shopping!
Copyright © 2008-2015 Cindy Aitken
Read more about the writer: Cindy Aitken
---
Post Your Comment...
---