Family Meal Table Talk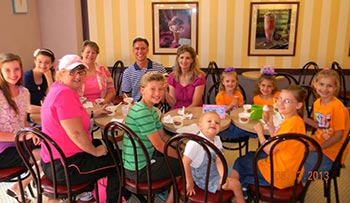 Each night when our family sits down to have our family meal time, we have to make a concerted effort to keep our conversations focused. With ten of us at the table [and more when we host people after church on Sundays], we can become unfocused and have a tendency to rabbit-trail into ten different streams of thought!
I owe this simple suggestion to Nancy Campbell, the founder of Above Rubies ministry, for the example she sets on how to make family meal time more interesting and less self-centered.
Have the following questions in a little bowl or envelope:
If you were only allowed to keep one book of the Bible, what would it be?
What is your favorite time of year and why?
What is your favorite meal?
What projects would you like to accomplish this month…this year?
What do you like best about a particular extra-curricular activity?
What do you like best about Sunday?
What is your favorite tradition we do at Christmas time?
What has been your favorite summer vacation?
What is your favorite day of the week?
What is your favorite thing we do in the fall? Winter? Spring? Summer?
What is your favorite subject in school?
Who is someone you admire and why?
What is your favorite Christian music group?
What is your favorite worship song and why?
What is your favorite hymn?
What was the most meaningful thing that happened today?
What did you learn today?
What do you sense God is calling you to do with your life?
What would you do even if you were not paid?
Name a positive character quality you recognize in one of your siblings.
What is your favorite book and why?
How do you like to spend your free time?
What are you reading in your devotional times?
As you can imagine, this list of questions could expand as to the nature of your family. We have been doing these "table talk" questions for a couple of years. I can say, with all honesty, that the times we either forget to pull out the questions or allow our conversations to "run the gamut," we have not found our meal time to be as fruitful as we would like. Just like the 2nd Law of Thermodynamics, our family's conversations naturally tend toward chaos and disorder, apart from intentional intervention!
Also, don't feel that asking questions somehow shows that you do not know your children as well as you should. Quite the contrary, Brad and I feel that we must constantly stay on top of our children's thoughts, feelings and ever-changing convictions. We simply do not want to assume we know all there is to know about them because they belong to us or even because we home-school. We don't want any curve-balls thrown our way!
Many of these questions or "ice-breakers" can be used one on one with your children as well. We have found that the questions get them to open up with specific things to talk about as opposed to just a general, "How are you doing?" Some children open up to general questions with a ready heart to share. Sometimes they simply need a little prompting.
Another idea to consider……..Keep a little "Joke Book" close to the family meal table. We have a clean one entitled Laugh-Out-Loud Jokes for Kids by Rob Elliot.
We also keep a poetry book near the table. Listening to beautiful poetry to begin a meal stimulates our brains and sets the tone for a calming meal. Add a table cloth and two lit candles and create wonderful meal time memories!
Copyright © 2008-2015 Alyson Shedd
Read more about the writer: Alyson Shedd
---
Post Your Comment...
---