Holiday Tunes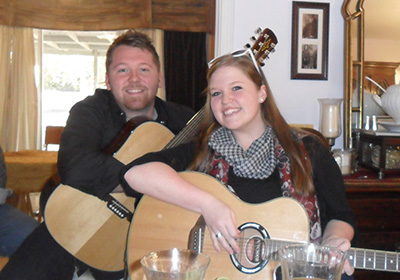 It's one of those moments for a mom that only God can inspire! When you watch your children grow up and develop their God-given talents that were inspired and granted from Him alone, but given to you to steward, it's one of the most delightful things!!
During one such special moment, my heart was full as I watched our daughter and our oldest son, strum their guitars together to some festive tunes for the holidays.
For most everyone in the room, it was fun to watch the brother and sister play to their hearts content the lively song that filled the air and the hearts of everyone watching and listening.
But for me, as the mom, my mind went back to another special moment when my daughter was just a toddler and was "star-struck" watching her grandfather play the guitar and stood for more than an hour with her eyes and heart "glued" to the captivating sounds that were coming from that instrument. She was at that very moment "taken away" with the inspiration of the music!!
At the time, more than a decade ago, my great-grandmother was still alive and she witnessed that special moment where Gillian stood captivated by the sounds of the music and she said to me "That little girl is going to play the guitar!"
It was in that very corner of the living room!! And so she did!! Gillian grew up to play the guitar as well as them all!! And led everyone in a great time of musical holiday tunes!!
And my heart as a mom was full!!
Mary, the mother of Jesus, pondered many things in her heart! We too, as mothers can ponder and keep those special moments in our hearts as God leads our children on into their destinies and callings!!
May God Bless You all in your Motherhood Moments!!
Copyright © 2008-2015 Debbie Reynolds Harper
Read more about the writer: Debbie Reynolds Harper
---
Post Your Comment...
---