It Doesn't Get Any Better Than This
"I know what it is to be in need, and I know what it is to have plenty. I have learned the secret of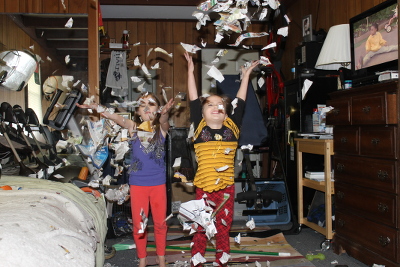 being content in any and every situation, whether well fed or hungry, whether living in plenty or in want. I can do everything through him who gives me strength." -Philippians 4:12,13
Note: This story was written by Cindy's husband, Shawn.
When life gets a little crazy at my house with kids running everywhere and usually doing things they shouldn't, I will look at my wife and tell her, "It doesn't get any better than this!" I usually say it in jest but what I really mean is that even though it may seem crazy at the time, we need to savor the moment as it is happening. Even though it may seem like things are out of hand, there will come a time in life when we look back and say that those were the best times in our lives or there was a purpose we did not see. The key to life is realizing that on the front end and not years after they have happened.
Tonight I had one of those moments. I was in my "man room" with all three of my girls. Reilly (11 months old) was screaming and I was trying to comfort her. Samantha (6 years old) and Mackenzie (5 years old) were watching a DVD of the Cosby Show on the television. Samantha and Mack decided that it was a good idea to tear up an entire newspaper and make confetti. Then they proceeded to throw it up into the air and dance under the falling paper. All of this was done while their mother took a rare 20 minute nap. Reilly finally fell asleep on my chest which she has only done twice before. I couldn't move because she would wake up. I was in an odd position and my leg was falling asleep. I am watching the girls fill the room with shredded newspaper that was so thick on the floor that they decided to make snow angels. The only thing I could think was "it doesn't get any better than this!"
That may not seem like a stretch but there is a back story. For the last 30 days, Mackenzie has had to wear a heart monitor. She told her mother that her heart was racing and we took her to the doctor. After some tests the doctor at CHKD had her wear a heart monitor. Three days from now we are going to find out where we have to go from here. Half way into the 30 days, Mackenzie said that she wasn't having any problems with her heart racing so she didn't have to push the button on the monitor. She said the only problem she was having is when she felt her heart stop. I wish I could have seen my face when I was told that. We never thought to tell her to push the button if she felt her heart stop!
Three days from now we will find out what the problem is and if it is minor or catastrophic or we will know nothing and have to keep testing. Three days from now our lives could be turned upside down or we will sigh in relief. I don't know what is going to happen then but I do know what I have right now; I have a choice to make. I can worry about then, which I have no control over or I can view today for what it is right now. I can be content in the moment or miss the newspaper parade for the unknown. No matter what happens, I know this…God is good. My circumstances do not change His character and it does not change who He is; God is good. . . and it doesn't get any better than that!
Copyright © 2008-2015 Cindy Aitken
Read more about the writer: Cindy Aitken
---
Post Your Comment...
---