Nurturing a Child's Creativity
Okay . . . so I don't know about you, but I am not necessarily the "craftiest" of gals . . . that is with arts and crafts. Yet, God lovingly and "laughingly" (I'm sure) gave me two little girls that JUST ADORE CRAFTS! Yikes. J Talk about pressure . . . so what to do when you don't know what to do? Well, you FIRST, find someone who knows what they're doing. So, when my oldest daughter (6 years old) wanted to learn how to crochet, I immediately found some friends who could help.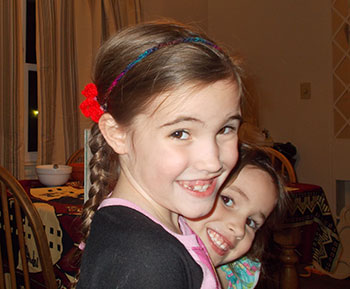 That's where we miss the mark sometimes as Moms. We think we're supposed to know it all and be able to do it all. Not so!
My daughter was not asking to make an afghan to cover the couch and flow down into the hallway. No, she was asking to learn how to make a chain – a single chain – so that she could then use her own creativity to design a headband, barrette, belt, etc.
So, our friends, actually Samantha's leaders at American Heritage Girls, taught us a simple chain (so that I could continue to help her at home) and voila! A Crochet Star Was Born! She's now single chaining up the entire house. We have headbands for everyone including the dog, a beautiful barrette, and we're working on the belts and other accessories that every 6 year old needs. My point? KISS
Keep It Simple Sweetie. Let's not complicate the sweet intentions of our little chickpeas. They're busy and just want to learn new things while feeling big and important. Mission Accomplished.
Samantha is going all over town (literally) showing everyone her newfound skill. Sure she keeps referring to it as knitting . . . sure we cheat by using the yarn that's already multi-colored so it really looks like something SUPER special and exciting, but at the end of the day I have a young lady who feels more confident and proud as to who God is growing her to become. And isn't that what it's really all about?
So grab your crochet hooks, a skein of colorful yarn and start your "knitting" (crocheting) so that you too can wear your daughter's creation to work the next day and tell all in the office that it was a special gift from your crafty little girl. That is Arts and Crafts.
Copyright © 2008-2015 Cindy Aitken
Read more about the writer: Cindy Aitken
---
Post Your Comment...
---