Tips For Including Others in Conversation
One of the biggest things I have always stressed to my children is to include everyone in the conversation or the activity as much as possible, at any given moment. I want them to be conscientious that other people are waiting and wanting to be included and not left out.
It is considered rude manners to form exclusive groups or clicks or to whisper to a certain few select people, while you nudge out, or give a cold shoulder to those that you prefer to exclude or do not want to be included.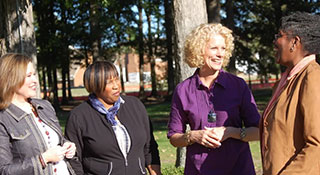 While most people are not quite so obvious and rudely intentional, others simple don't think about it, or don't know how to include everyone.
I have a few friends that are pros at putting everyone at ease and finding something in common for everyone to relate to one another. I will share with you some tips I have noticed that work quite well.
Be Assertive and Positive. A person who is to include others must intentionally facilitate the conversation in a way that everyone in the group will enjoy.
Make Common Connections. If you are the common link between two people because you have met both of them and already know something about them, then you are the one that needs to make the introductions with the other two parties and include pertinent information that they would each find of interest about each other.
Keep the Conversation Going. When two people are trying to get to know each other, they may not be as naturally friendly as you are, so help them out by making it fun for everyone and talking about things that everyone can relate to. If someone drops the ball and the conversation lags, the pick it up again and serve up the next topic!
Ask Engaging Questions. When the conversation lags, a good way to get it going again is to ask questions of each person that will engage both the speaker and the listeners, so that all the others can hear the response and learn something about the other. This will help them all get to know each other and have points of interest to spark conversation the next time they see each other.
Listen. Once the fire is burning and the conversation has been kindled among people, then become an interested listener. Smile and nod and show interest so that everyone enjoys the positive social interaction. You'll be glad you did!
Have fun with it and remain calm, cheerful, and natural. That way no one will feel excluded and everyone will enjoy their time together!
Copyright © 2008-2015 Debbie Reynolds Harper
Read more about the writer: Debbie Reynolds Harper
---
Post Your Comment...
---