< Back to Strength for Your Spirit
The Gift
"For all have sinned and fall short of the glory of God, being justified as a gift by His grace through the redemption which is in Christ Jesus; whom God displayed publicly as a propitiation in His blood through faith….for the demonstration I say, of His righteousness at the present time, that He might be just and the justifier of the one who has faith in Jesus." (Romans 3:23-25a,26 NASB)
"Much more then having now been justified by His blood, we shall be saved from the wrath of God through Him. For while we were enemies, we were reconciled to God through the death of His Son, much more, having been reconciled, we shall be saved by His life. And not only this, but we also exult in God through our Lord Jesus Christ through whom we have now received the reconciliation." (Romans 5:9-11 NASB)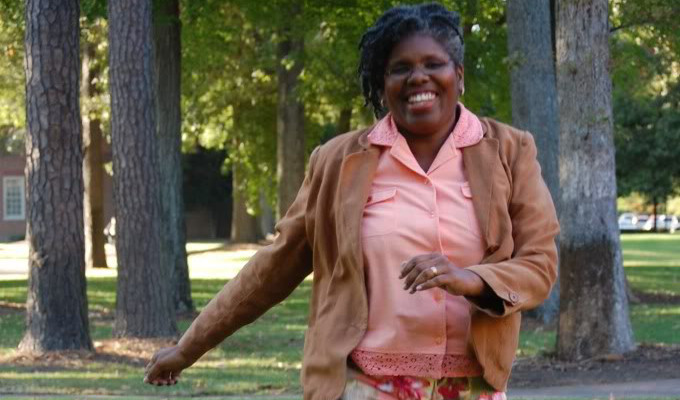 My sister and I are eighteen years apart. So, when she was a young child, I was in college and working. One Christmas when she was about three years old, because of my love for her, I desired to give her the best gift ever. It was a child's height metal toy kitchen set. It included a sink, a refrigerator and a stove. All with moving parts. I also determined to assemble it myself even though her dad offered to do it.
So, on Christmas eve I embarked on the project that took me into the crack of dawn. Before I could even dispose of the boxes, my sister came bounding down the steps with excitement and wonder in her eyes. I couldn't wait to see her response to my great gift. Much to my dismay, however, she ran passed my gift and with much glee began to play with the boxes! It was an expensive gift and I put a lot of hard work into it but she preferred the box.
God has provided us a great gift of salvation. It was an expensive gift. He gave all He had to secure it for us in spite of our sinful ways and our stubborn pride (Romans 5:8). Like my sister that Christmas, due to the lack of understanding of the full ramifications of that gift, we may be found "playing with the box" and missing out on enjoying the gift to its fullest extent.
In this article, I will attempt to reveal the depths of the great salvation that God has given us. Much of the hidden treasure is found in the unfamiliar terms that are underlined in the above opening verses. So, we will begin by defining those terms.
Terms Defined
We will move from the most familiar to the least familiar terms. Let's begin with the term "sin." It can be defined as falling short of God's standard of holiness or missing the mark. It can be illustrated one's effort in archery to hit the bull's eye or a child trying to "pin the tail on a donkey." With God, the center of the target is holiness and anything less than that is sin. Coming close is not good enough. Romans 3:23 tells us that we all miss that mark. It is this problem that separates us from a holy God bringing upon us eternal judgment. For Romans 6:23 states that "the wages of sin is death." This problem leads us to the next term, "saved."
Saved means to be rescued, delivered from peril or bondage. Out of His great love for us, God devised a plan to deliver us from the bondage and penalty of sin. The execution of this plan we call "Salvation." There are three aspects of this plan which we will discuss later. The next term is what makes this provision possible. It is called "grace."
Grace is defined as undeserved favor or as my former Bible College professor, would drill into us, "favor extended where wrath is deserved." Because of sin, we deserved wrath but what we received was favor from God. His plan of salvation flows out His willingness to extend favor and blessing even when we deserve punishment (Romans 6:23). We access this favor by "faith" (Ephesians 2:8,9) which is our next term.
Faith is the confident assurance in that which we hold to be true and trustworthy (Hebrews 11:1). We all have faith, otherwise we would never ride an elevator, take any mode of transportation, or eat in a restaurant to name a few. We fearlessly utilize these things because we believe in the safety of them and the competency in the producers of them even though we don't understand or know all the details of their operation.
The difference between this and faith that leads to salvation is the object of the faith. In other words, getting on an elevator may get you from the first to the twenty-first floor but it will not save you from the penalty of sin. You must place your faith in the death and resurrection of Christ as the provision for your salvation in order to receive the benefit (Romans 10:9,10; John 14:6). Faith is the currency of heaven. We cannot receive anything from God without it (James 1:6; Hebrews 11:6).
The next set of terms will describe how this provision of salvation was executed behind the scenes. We know the story found in the Gospels and played out in history. That God came in the flesh as Jesus (John 1;1,14; Philippians 2:5-11) and died on the cross to be the perfect sacrifice for our sins (Hebrews 10:10-12) rose to give us victory over death, hell and grave ( 1 Corinthians 15:55-57). What we may not be aware of is what was done in the spiritual realm to make this possible. We will go behind the scenes by beginning with the word "redemption."
Redemption in the New Testament is a market place term that was used in the sale and purchase of slaves in the Greco-Roman culture. It means to be purchased with the payment of a price. We were purchased out of the slavery of sin and the domain of darkness by a benevolent Master into the kingdom of His dear son, Jesus ( Colossians 1:13,14). The purchase price was "the precious blood of Christ" ( 1 Peter 1:18,19). The next term describes why Christ's blood was sufficient. That term is "propitiation."
Propitiation means satisfied or atoned. Jesus' blood satisfied the requirement of God's justice. A sacrifice had to be made in order for the penalty of sin to be waved. The penalty of sin is death. Christ's death was the sacrifice that satisfied that requirement. This was foreshadowed by the sacrifice of perfect lambs and goats in the Old Testament days through which forgiveness of sins were received temporarily. Jesus was the one- time sacrifice for all time as the completely sinless lamb of God. The next term is the culmination of all the other terms that makes it possible for us to have relationship with God and be a part of His family and kingdom. It is the word "justified."
To be justified is to be declared righteous. It is a judicial term that is similar to our word "innocent." We are declared innocent of all the charges brought against us because of sin (Romans 3:23). We were all facing a death sentence but because Christ took our punishment for us we are now declared "innocent" by the judge Himself – God, the Father. It is a Divine exchange. Jesus became sin for us that we may be made the righteousness of God in Christ (2 Corinthians 5:21). He took on our sin so that we can take on His righteousness. This Divine exchange made this last term possible – reconciliation.
Reconciliation is in the realm of relationship. Sin had separated human beings from God who is holy. Jesus experienced this separation on the cross, causing Him to cry out "my God, my God, why have You forsaken me?" Christ bridged that gap with His sacrifice thus restoring the relationship between those who place their faith in God through Him. Just like adjusting one's watch to the time of one's cell phone which is aligned with a worldwide standard. Because of all that was done behind the scenes as described by the previous words, we who were out of sync with the Holy God are now aligned with his Holy nature. We stand before God now as those who have hit the bulls eye-the center of the target. Because of that, we now have peace with God and consequently a relationship with Him whereby we can call Him, "Father."
God has covered every scenario to secure for us a great and magnificent salvation. He has covered every aspect of need produced by the destructive force of sin. He has covered our past, present and future. This is seen in the verb usage in the opening passages of this article. They reveal that there is a past, present and future aspect of our salvation. It can be encapsulted in this manner. We were saved from the PENALTY of sin – redemption, propitiation, justification, reconciliation (Romans 5:10a; 1 peter 1:18,19; Ephesians 2:8,9). We are being saved from the POWER of sin - sanctification (Romans 6:10-14; Philippians 2:12b). We shall be saved from the PRESENCE of sin - glorification (1 Corinthians 15:58).
Putting It All Together
We rejoice in knowing that we have been saved from the PENALTY of sin. Sin carries a penalty – death (Romans 6:23). We were all under this death sentence which is eternal separation from God. Christ's death satisfied this judgment (propitiation) by the payment of His blood (redemption). He purchased us to become slaves of righteousness and servants of God (Romans 6:18,22). At the same time, we were made holy by the cleansing power of the blood of Christ as we were given a new nature by the Holy Spirit
Who came to live in our renewed spirit thus adjusting us to the nature of God and reestablishing our relationship with Him (reconciliation). Then God justly declares us "Righteous" and acquits us of all charges ( justification). In addition, we are instantly given eternal life and the hope of one day being saved from the PRESENCE of sin when we get to heaven. To reap the benefit of this, we must apply faith – full confidence that this was done for you and thus receive this gift for yourself.
How great a salvation is this? Simply just receiving this gift and marveling at it, however, is like my sister playing with the box. Enjoying the gift is allowing this treasure to impact our daily life and transform us. That is the process of being saved from the POWER of sin.
The ultimate goal of our salvation is our transformation to the image of Christ so that He may be glorified in the earth (Romans 12:2; 1 Corinthians 6:20;2 Corinthians 3:18). We are purchased (redeemed) and set a part (sanctified) by God to be made into the likeness of Christ for His glory. It is declaring ourselves dead to sin and alive to Christ daily (Romans 6:11).
The Apostle Paul declared, "for me to live is Christ…" (Philippians 1:21a). 2 Corinthians 5:17, sates that "if any man be in Christ, he is a new creature; the old things are passed away; behold new things have come." He has given us the Holy Spirit to secure our salvation (Ephesians 1:13,14), to place us in Christ, to lead, guide, and teach us, and to live the life of Christ through us (Galatians 5:22,23).
2 Peter 1:3, so clearly states – "His Divine power has granted to us all things that pertain to life and godliness through the knowledge of Him who called us to His own glory and excellence." It is a life of fellowship, devotion, faith, servant hood, sacrifice, authority over demonic powers, love, peace, humility and joy to the glory of God.
It is a life of hope because Jesus is returning for us – His bride and "the government shall be upon His shoulders.." (Ephesians 5:25-27; 1Thessalonians 4:14-18; Isaiah 9:6). It is a life of victory over our own weaknesses and over the onslaught of the wicked one (Romans 8:37; 2 Corinthians 2:14). It is a life of fulfillment and purpose (John 10:10b; 2 Corinthians 5:9).
Conclusion
Let us embrace all that Christ's death and resurrection has provided for us – our transformation as well as our glorification. Let us humble ourselves before God and daily, moment by moment lay aside our own desires and embrace the new nature that God has given us as we live in dependence upon the Holy Spirit. Enjoy the sweet fellowship with Him and cultivate our relationship with God by reading His word, obeying it and including Him in our lives throughout the day (1 Thessalonians 5:17). Then we will move beyond just playing with the boxes to enjoying the entire gift of salvation. Let's pray.
Prayer
Lord Jesus, thank You for taking my place that I might have my sins forgiven and receive a place in heaven. I submit myself to You as Your servant and heir to all that Your blood has purchased for me. I surrender my body to You (Romans 12:1) that the Holy Spirit may bring glory to You through my life. I surrender my will so that You may transform me into the likeness of Christ. Thank You for giving me Your joy, peace, and love. In Jesus' name, Amen.
Copyright © 2008-2015 Shermaine Jones
Read more about the writer: Shermaine Jones
---
Post Your Comment...
---