< Back to Kitchen Keeper Recipes
Amish Baked Chicken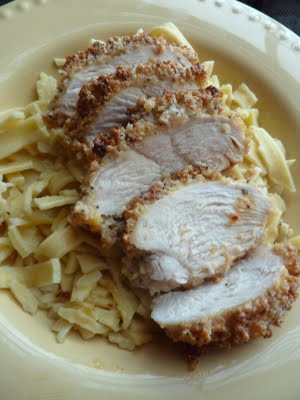 Adapted from Amish Cookbook
Ingredients:
8 boneless chicken breasts, split to ½ inch thick (later you'll be able to cut with a fork!)
2-3 cups finely crumbled buttery cracker crumbs
1 cup parmesan cheese
1 tsp. salt
¼ tsp. pepper
1-2 Tbsp. garlic powder
1 cup minced onions
2-3 cups melted butter
Directions:
Mix all ingredients together except the melted butter.
Dip chicken pieces into melted butter, then coat in the dry mixture
Arrange in an open stone or glass casserole dish
Pour remaining butter (or more!) over entire dish
Bake 1 hour, covered, or until tender when poked with a fork.
Serve over rice or mashed potatoes, green beans, and a salad!
Amish baked chicken is a delicious dish for your whole family to enjoy!
Copyright © 2008-2015 Alyson Shedd
Read more about the writer: Alyson Shedd
---
Post Your Comment...
---