See How Bare You Can Get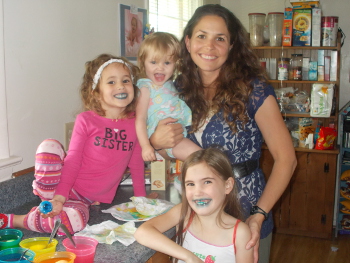 AHA!!! Peaked your curiosity haven't I? Nice little article just as everyone goes on Summer Break entitled, "See how bare you can get." Well, let me put your minds at ease . . . I am NOT referring to your wardrobe selections.
I am talking about your KITCHEN CUPBOARDS. That's right. Have you even taken a look at those babies lately? I mean, come on. Could you even name half of what you have residing inside those things?
Well, do I have an exciting assignment for you! It's a money saver and an adventure all rolled into one.
The first step is this. Tell your family it's SURVIVAL WEEK. "We are all going to pretend that this week we have to 'live off the land' which means whatever we already have within our home.
This will require creativity and effort and NO complaining. If there are complaints you just don't eat, plain and simple." That'll show 'em.
No, I'm serious. This is actually FUN! This past week, my husband had to be gone, and I was swamped with taking care of three small youngins, finishing my teaching school year, preparing for my son's graduation and honestly the LAST thing I wanted to think about was taking my sweet blossoms grocery shopping. So, I told them . . . "Hey girls! We're going on an adventure this week.
While Daddy's away, we are going to pretend that we're Indoor Camping. And one of the things we do for Indoor Camping is survive off what we have in the kitchen cabinets and fridge. Let's go see what we can make."
They were so excited because I was excited! (And yes, I'm well aware that if my teenage son had been a part of this "adventure" that he would've opted to go "journey" to Wendy's for some carnivorous find. But, he was busy with work and school, so I left him out of the equation.)
Well, wouldn't you know? The girls and I created a fabulous MIX of chips, bits of candy, nuts, etc. which we entitled the Aitken Trailmix. Then, I discovered that I love Hearts of Palm which was a canned good I had and didn't even know about. We made popsicles out of a blend of milk and fruit. We mixed up some rice with lunchmeat chopped up fine and added butter with pepper . . . you name it, we mixed it! We made Peppermint Christmas cookies (never mind that Easter and Memorial Day have come and gone) and loved every bite! We survived an entire week without having to shop and we made do with the BLESSING of food that we already had.
I guess my point is this . . . typically, we truly have so much. But sometimes it takes time to really use those resources the way they could be. I'm not talking about making any major life changes, okay?
I'm just here to say that every once in a while, we need to slow down long enough . . . not just to smell the roses but to really thank God for how much we have.
Don't get me wrong, we are just a regular working family trying to do our best in raising four children, but we can all benefit from saving some money and time by making use of some of those things that may get overlooked in the pantry until the shelves start to get "bare."
So do yourself a favor . . . give yourself a break this week from shopping, save some money, and open up those cabinets and see just how "low you can go."
Copyright © 2008-2015 Cindy Aitken
Read more about the writer: Cindy Aitken
---
Post Your Comment...
---