< Back to Kitchen Keeper Recipes
Au Grautin Potatoes
I love Au Gratin Potatoes! Hands down this is the BEST recipe I have ever found. I will use this gem every Christmas and Easter with our holiday ham or turkey. Enjoy!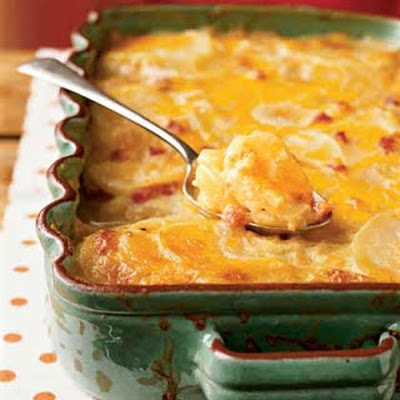 Makes 10-12 servings
Ingredients:
2 cups heavy cream
1 and ¾ tsp. salt
1 garlic clove, minced
¾ tsp. black pepper
¼ tsp. ground nutmeg
3 pounds Russet potatoes, peeled and thinly sliced
2 cups freshly grated Gruyere cheese (this is the key ingredient . . . no substitutes)
2 TBSP freshly grated Parmesan cheese
Directions:
Preheat oven to 350 degrees
Stir together the first five ingredients in a medium bowl. Let stand 5 minutes.
Arrange a single layer of potatoes in a buttered 13x9 inch baking dish. Pour ¼ cup heavy cream mixture over the potatoes then sprinkle with ¼ cup of the Gruyere cheese.
Repeat layers 7 more times. Top with Parmesan cheese.
Bake, covered with aluminum foil at 350 for 45 minutes. Uncover and bake 15-20 more minutes or until golden brown and potatoes are tender. Cool on a wire rack 10 minutes.
Enjoy for a holiday meal, a special occasion or just your family dinner!
Copyright © 2008-2015 Alyson Shedd
Read more about the writer: Alyson Shedd
---
Post Your Comment...
---