Pooh Bear's Backside
So, I wish that I could meet every reader who has taken the time to click open this interesting article. "How in the world could Winnie-the-Pooh's bottom have anything to do with growing into a more mature and godly woman?"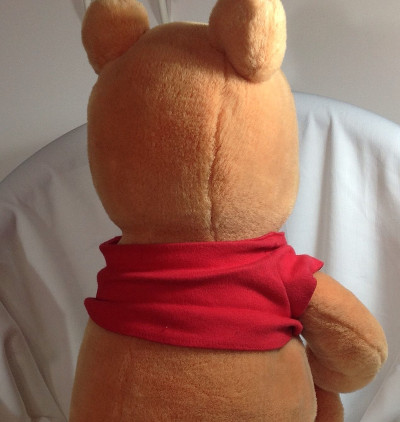 That is an excellent question, but interestingly enough . . . it does. You see, these past few weeks, I have desperately been trying to get my almost two-year-old into her "Big Girl Bed" and she wants nothing to do with it.
"Well, maybe it's just too early?" you might say . . . and maybe I'd even agree with you.
But . . . my predicament is this. We are having another baby in just a few months, and I do not want the toddler to feel like the new baby has taken over her domain. Capiche?
Trust me . . . it would be easier for me to just let the little nugget snuggle back with me under my arm (yes she has been in my bed for a year and a half; you can lecture me on that one another time) but the Lord has led my husband and I in this direction, and only because we know this is Him, we have committed.
So how does Pooh Bear play into all of this?
On about Day 4 of this venture, I curled up next to my toddler, Reilly, in her toddler bed one night, trying to ease her back into sleep.
I was lying there with no cushion under my head (because there is just her little pillow for her to sleep on - never suspecting that I was going to attempt to cram my 5'5" self into a TODDLER BED. Go figure.)
Well, as I was praying, reassuring myself that God cares and sees my sleep deprivation, I mentioned that it sure would be nice to have something on which to rest my head.
Right at that moment, my fingertips bumped into something furry and soft. Little did I know what it was nor did I care at that very moment.
I placed all that fluffiness under my head, continued to pray and soothe my little one and actually fell asleep.
It wasn't until the next morning that I had realized it was the backside of my daughter's stuffed Pooh Bear that had brought me such comfort in my time of need and THAT is when it hit me!
Jonah had a fig tree, right?
And Noah had a rainbow in the sky?
Why couldn't Pooh Bear's backside be my sign that not only DOES God care about my situation but He also is magnificent enough that He can use anything in any situation to bring us comfort.
Why does this really matter?
I tell you . . . because in my life right now . . . there is something deeper going on.
You see, I am getting ready to have to let go of a very special person in my life as she prepares to pass into the Kingdom of Heaven.
I'm not prepared. I'm not ready to say Goodbye to this special lady who has taught me so many things as I have grown into the woman God has called me to be.
I'm angry and I'm tired. I feel like there's no hope in sight . . . much like how I have felt over these past few weeks with the endless nights with my toddler.
But . . . we serve a mighty God of Hope! We serve a God who sees and cares about it all.
He is our strength when we are weak and our perseverance when we feel we just can't go on.
He is Love and His Word says, "LOVE NEVER FAILS." So, everyone listen loud and clear . . . it may come at a moment you least expect it. It may come in a form you would have never suspected . . . but God's comfort is here for you to receive.
You just be real with Him and tell Him that it is only by Him that you can carry on. That you can keep hoping. That you can rise up in strength to keep pressing forward. He will provide this for you in the Name of Jesus Christ!
His Word says it and all throughout He demonstrates it. And it may not be a shady tree or a colorful bow in the sky . . . no . . . if your life is anything at all like mine . . . it may come in something just as kooky as Pooh Bear's backside.
No matter how it comes . . . please pay attention and don't miss out, merely because you thought it was supposed to be a little different.
God's comfort from His Divine Hand will be exactly what it needs to be for you right then and there.
Keep a watchful eye and an open heart. Sweet Dreams!
Copyright © 2008-2015 Cindy Aitken
Read more about the writer: Cindy Aitken
---
Post Your Comment...
---