Leaving a Legacy
Every girl has a hero, a knight in shining armor. Mine wears a different uniform, one of navy and white, with the Star - Spangled Banner raised above his head; my grandfather, former Chief Warrant Officer, James Salavejus, or as I call him, "Papa." I grew up with him telling me stories of what he did, places he had been, and what he stood for. He came from nothing and built a prosperous family, all centered on God. Let me tell you about him.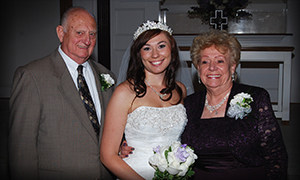 My grandfather came from humble beginnings. He was the grandson of an immigrant from Lithuania and grew up in Detroit, Michigan. He lived with both his parents and his little sister. They did not have very much; his parents could not afford to send him to college. So, at the age of 17, he enlisted in the US Navy in May of 1956. He started at the lowest rank – a Seaman Recruit or basically "Deck Swabber." His duties were anything and everything his commanding officer barked at him to do.
However, this did not discourage him. He was determined to be the best he could be by spending every free moment educating himself about other positions, the ship, the crew; anything he could learn, he did. After a few short years, he rose in the ranks to be the ship's Navigator. It was shortly after his promotion that he married the love of his life, Lorraine (or as I like to call her, Meme), in 1961. They were quickly stationed in Rhode Island.
Even though he had to be separated from his new bride for months at a time, he did not let anxiety get the best of him. He continued to rise in the ranks. He took every opportunity to become a better man. As he was promoted, they were stationed in many different states; from Massachusetts to California, Illinois to Virginia. After only eight years, in 1969, he was promoted to Chief Warrant Officer, 15 ranks above where he started, the highest enlisted ranking officer in the US Navy. He was stationed in Cuba during the Blockade of Cuba. He led his men into many continents and countries, all in the name of peace and justice. He would travel throughout Europe, Asia, South America, and the Middle East during the Jewish Wars. Then finally in 1984, he retired from the Navy.
Even though he was retired, he did not sit idle. He pushed himself once more. He started a construction company, building houses with his two sons, he owns many rental properties and manages them all; he volunteers with many charities and has been on the church board for many years. With all of that, he still had time to be the best Papa to his three grandchildren.
I grew up hearing many stories of what he did in the Navy, all the places he had been, and, most importantly, what he stood for. When I lived at home, my fondest memory was our talks on the front porch. They were short and sweet, but they were the ones that meant the most. He would tell me to never settle for what seems good right now; there is always room for improvement and growth.
To this day, when I come home for holidays, we still have our porch talks. He could have stopped at Navigator, retired and lived an ordinary life, but he didn't, he chose to continue to grow and become the man God called him to be. He instilled that value in his children and grandchildren, which we still adhere to today.
Thank you Papa for all that you have fought for and all that you have taught me. Happy Veterans Day.
Copyright © 2008-2015 Rachel Lynn Harper
Read more about the writer: Rachel Lynn Harper
---
Post Your Comment...
---