< Back to Kitchen Keeper Recipes
Honey Glazed Apples and Sweet Potatoes
Whether it's for a holiday feast or a family dinner around the table on a cold winter day, this is a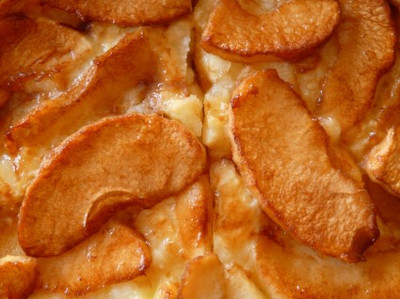 delicious dish!
Ingredients:
3 medium sweet potatoes
2 apples , peeled and sliced
1/3 cup honey
1/4 cup butter
1/2 tsp. cinnamon
1/2 tsp. vanilla extract
Garnish: chopped toasted pecans
Directions:
Preheat oven to 375.
Place washed and un-pierced potatoes on a baking sheet and bake 30-40 minutes.
As soon as potatoes are soft with a light squeeze they are ready. Let cool.
In a small sauce pan melt together honey, butter, cinnamon and vanilla. Remove from heat.
Remove the peel from the sweet potatoes and cut cross-wise into half inch slices.
Alternating with the apple slices and sweet potatoe slices, arrange in 9x11 baking dish.
Pour honey mixture over the top.
Sprinkle with chopped pecans.
Bake at 350 for 15-20 minutes until heated throughout.
Copyright © 2008-2015 Alyson Shedd
Read more about the writer: Alyson Shedd
---
Post Your Comment...
---