Creative Gift Giving
The Lord tells us "it is more blessed to give than receive" (Acts 20:35 ESV), but sometimes we may feel like we have very little to give.
But that isn't true. THAT is a lie the Enemy just wants us to believe in order to take us away from the FOCUS and the Joy, of the Christmas spirit. Giving!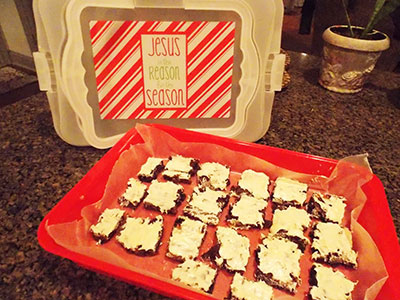 Christ was given to us as a gift and if we are having a pity party about how we have nothing to offer then the attention quickly turns to us and AWAY from the Savior.
Enough already. We are stronger than that and we will overcome the tricks of the Enemy by "giving it up" this year . . . and I mean that in every sense of those words.
We will give up our hearts to the Lord and ask Him who He wants us to give to and how.
We will enjoy using our creativity and hidden talents to bring JOY to other people's Christmas time.
Here's how we can do it!!
Home-baked goodies are always amazing!!! My favorite gift every year is homemade Christmas cookies. Buy some beautiful tins from the Dollar Tree and go to town making some yummy Christmas treats. Arrange the variety of cookies most beautifully within the tin and bless those whom you appreciate by saying thank you and Merry Christmas with this special gift (mail carrier, neighbors, teachers, family, etc).
Handmade gifts are always meaningful!! I am not naturally a super crafty person on my own, but with the help of GREAT ideas from others on websites like pinterest.com I feel like a woman who can do most anything in the world of creating GREAT GIFTS. Family and friends love meaningfully gifts. Give yourself plenty of time to create a special something that tells someone just how much he/she means to you.
Pre-owned and gently used items can be perfectly practical and inexpensive! Let's get real. How many of us have received a great gift, used it a few times, and found that it wasn't quite the fit for us, and then given it away to a Thrift Store? There was still a lot of use for someone still to be enjoyed. You can locate some GREAT bargains in an antique shop or thrift store, Ebay or Craig's List, and sprucing up your great find, and giving it to someone whom you know will love it!
The point of giving is truly pausing at this time of year and thinking of how you can Bless not Impress someone else. From making personal coupon books that offer some of your special services like: babysitting services for a friend, or game night, or back massages. . . to setting aside a little extra time for you and your spouse, whatever you choose to do, when done with true thoughtfulness and love, is always appreciated.
It's also a great way to show the love of Christ in a very special and tender way. So, let your light shine for Him this Christmas season and participate in the JOY of giving from the heart!
Copyright © 2008-2015 Cindy Aitken
Read more about the writer: Cindy Aitken
---
Post Your Comment...
---