< Back to Kitchen Keeper Recipes
Viennese Hot Chocolate
This recipe comes to us from Reiner Marks, who prepared this drink aboard Viking River Cruises ships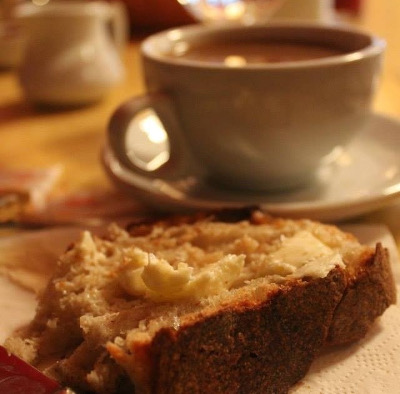 in Europe many times. Reiner has fond memories of how much our guests enjoyed the drink, which he says "tastes delicious." Enjoy!
Ingredients
3 C of low-fat milk
7 oz premium dark chocolate, grated
1 T granulated sugar
1 C heavy cream, chilled
1/2 tsp vanilla extract
1 T confectioner's sugar
Garnish
Cocoa powder or chocolate shavings
Directions
In a sauce pan, gently heat 1 C of milk with grated chocolate. Simmer over low heat until all chocolate has dissolved.
Combine remaining milk and granulated sugar in another saucepan and gently heat, whisking until all sugar has dissolved.
Add chocolate mix to sugared milk and continue simmering over low.
In a bowl, whisk heavy cream and vanilla together on high, slowly adding confectioner's sugar until peaks form.
Remove hot chocolate from heat and divide into cups.
Place a generous dollop of whipped cream on top of each. Garnish with a pinch of cocoa powder or sprinkle with chocolate shavings and serve.

A perfect sweet treat!
*Photography by Emily Bennett
Copyright © 2008-2015 DeeDee MacDonald
Read more about the writer: DeeDee MacDonald
---
Post Your Comment...
---