Yam au Gratin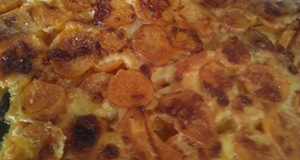 Yam au Gratin is a family favorite that we make for holiday dinners. This beautiful dish complements turkey or ham. We have made this when hosting guests and I am always asked for the recipe! This yummy dish has become a tradition in our family and is simple to make. The secret is the cheese and since Grand Cru is pricey, we reserve this dish for special occasions.
Ingredients:
2 cups Heavy cream
1 teaspoon Salt
3 lbs. Yams (peeled and sliced)
1 cup Grand Cru Gruyere shredded cheese
Directions:
Preheat oven to 350 degrees. Spray 9x13 baking dish with non-stick cooking spray.
Stir together heavy cream and salt.

Using a mandolin slicer, slice yams

Layer 1/3 of yams in baking dish, sprinkle 1/3 cup shredded cheese. Do this for 2 more layers.
On third (or top) layer, wait to sprinkle cheese until pouring cream mixture slowly and evenly over all the yam slices.
Bake uncovered on center rack of oven 1 hour 45 minutes or until yams are tender. Check every 30 minutes. If "crust" forms on top, remove from oven, carefully press fork on crust and allow liquid to flow over top of yams, then replace in oven till done.
Allow to sit for 15 minutes before serving.
Copyright © 2008-2015 Dorena DellaVecchio, Ph.D.
Read more about the writer: Dorena DellaVecchio, Ph.D.
---
Post Your Comment...
---