Fashion of Tomorrow
Editor's Note:
This is one of the three categories for this issue that has been selected to present a young person's perspective on the topic. I think you will find it fascinating and delightful to explore what the young minds have to offer. Please feel free to send us your comments as you respond to what they have to say. The categories of 1) Education, 2) Fashion, and 3) Friendships have been offered from a young person's perspective and in their original words. The titles were also their ideas, and no additional information was added from an adult. We hope you enjoy!!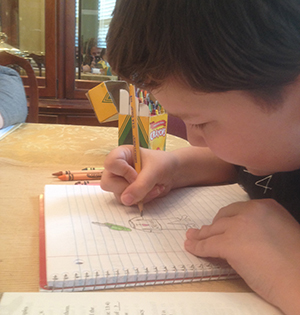 Fashion of Tomorrow
by Graham Harper, age 11
I think that modesty is a good thing and people should be more modest in their clothing. So the fashion of the future or tomorrow should look decent. We should look decent for Jesus. I would like to see shorts that are not too short and pants that are not too tight, or too long, or too baggy, but instead, that fit just right.
You don't need to go to the store and buy a complete new wardrobe, just go to your closest and pick out what you think would look nice.
I'm only 11 and I don't know the most of fashion, but I do know that we should look nice for Jesus and other people, so that they don't have to see something they can't unsee. But God loves you no matter what you wear or what you do. So be yourself and be awesome!
Fashion isn't the most important thing in life. But we should look decent for Jesus and God, since they give us love in abundance. Remember, God is good all the time and all the time God is good.
Copyright © 2008-2015 Debbie Reynolds Harper
Read more about the writer: Debbie Reynolds Harper
---
Post Your Comment...
---