< Back to Kitchen Keeper Recipes
Southwest White Chicken Chili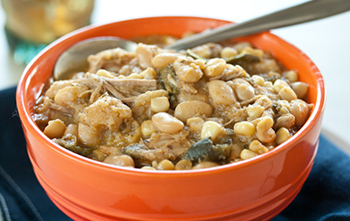 Chili is one of our family's favorite fall foods. We love to serve a chili bar with elbow noodles, sour crème, shredded cheddar cheese, Fritos Corn Chips and the works! Crockpot's are also a wonderful way to plan for dinner, especially on busy weekdays during the school year. This recipe is a unique one offered by Campbell's Kitchen.com. This one is sure to be a Kitchen Keeper!!!
Ingredients:
1 tsp. vegetable oil
4 skinless, boneless chicken breast halves, cut into cubes
4 tsp. chili powder
2 tsp. ground cumin
1 large onion, chopped
1 medium green pepper, chopped (about 3/4 cup)
1 can Cambell's Condensed Cream of Chicken Soup
3/4 cup of water
1 1/2 cups frozen whole kernel corn
2 cans white kidney beans, rinsed and drained
2 tbsp. shredded Cheddar cheese
Directions:
Heat oil in 4-qt. saucepan over medium-high heat. Add chicken, chili powder, cumin, onion and pepper and cook until chicken is cooked through and vegetable are tender, stirring often.
Stir soup, water, corn and beans in saucepan and heat to a boil. Reduce heat to low. Cover and cook 5 min., sirring occasionally. Sprinkle with cheese.
Enjoy Making Happy-Time Meals!!
Copyright © 2008-2015 Debbie Reynolds Harper
Read more about the writer: Debbie Reynolds Harper
---
Post Your Comment...
---