Seven Family Traditions for the New Year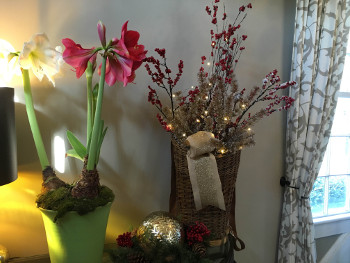 1. Make Everyday a Special Day
No day is an accident and each day has a bountiful opportunity to be enjoyed!! The Bible says, His mercies are new every morning, great is His faithfulness! It also says, "This is the day the Lord has made, I will rejoice and be glad in it!"
2. Enjoy the Ordinary
The scripture says what is required of us is to love justice, seek mercy and walk humbly before our God! And to give thanks in all things, rejoicing always and praying without ceasing.
3. Expect the "Extra" Ordinary
We serve an extraordinary God who wants to display His glory on the earth and want to dwell among His people, and when His presence comes, amazing things happen! We enter his gates with thanksgiving and into his courts with praise!
4. Ask God for Your Supernatural Faith to Increase
The scriptures say that without faith it is impossible to please God. Regular faith is given to us all, but supernatural faith is given by God for extenuating circumstances and must be recognized and utilized for that very purpose!
5. Practice Personal Giving to the Poor
It's not enough to send it to someone to do the work of touching the poor, we must roll up our selves and find where we can make a difference. If you see someone on the streets without a home, make your duty to find someone who can offer a shelter and a long-term solution. The scripture says if we ignore the cries of the poor, He himself will ignore our cries. But likewise, it says that if we lend to the poor, God himself will repay.
6. Engage in Meeting the Needs of your Neighbors
The greatest needs your neighbors have are to have fellowship, friendship, love and companionship. They need to hear and to know that God cares and that someone else cares enough to step into their world with a smile and a helping hand.
7. Plan Weekly Times to Gather to Worship the Living God
There is no other priority greater than the one we have of offering our worship to our God, the living God, the maker of heaven and earth, the Savior of the World, the Christ, the Lord of Heaven! Gather together with those you love and set aside time each week for true meaningful heart-felt gratitude and acknowledgement of who God is and how His name could be magnified an made great in all the earth and among mankind!
Have a Happy New Year!!! And May the God of Heaven Grant You His Peace and Joy as you seek to know Him better and more fully follow His plans for your life!
Copyright © 2008-2015 Debbie Reynolds Harper
Read more about the writer: Debbie Reynolds Harper
---
Post Your Comment...
---