< Back to Poems & Creative Writings
Forbidden Fruit
The fruit hung there, luscious and ripe
Emitting the sweet fragrance of promise through soft spoken words
Desire had risen within her for just one taste of the unknown
Juicy, sweet, succulent, forbidden fruit
Look but do not touch; words spoken by her Creator
Soon festered within when temptation arose
Forgotten was the fellowship with her Lord
And the beauty of the garden she loved
All around her was sumptuous fruit for the taking
She was free to partake in all but one
But freedom lost its flavor and its desire ran cold
Nothing was as appealing as the forbidden
Temptation wove itself into a need
It became a driving force
A voice fueling her desire
Poison dripping from the lips of the Liar
Seduction brought death to freedom
With one bite shared, desire died, truth exposed the lie
Her eyes were opened to what she had never known
Now she knew, man knew, we know.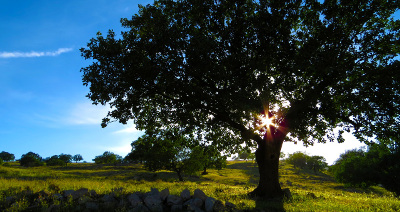 Temptation came to Eve in the Garden of Eden. Had she ever been tempted before, or did she fall with her first temptation? Temptation is a force that causes us to make a decision whether to do right or wrong. The tempter always shows us the exciting part of what he wants us to do. He never reveals to us the consequences.
Eve had everything she could possibly want except one thing, and that one thing became something she felt she absolutely had to have. She held forth the succulent, forbidden fruit to Adam, and he too fell to temptation. They were willing to give up everything, because they had no idea what everything was. It was something that was freely given to them; they didn't have to work for it, or be good enough to receive it.
Adam and Eve freely gave away their freedom; freedom from all that we, as their offspring, suffer from today. They had freedom from pain, stress, sickness, want, worry, death, and so much more. They also lost the privilege to be the friends of God, to see Him face to face, and walk with Him in the Garden.
God never wanted man to know the difference between good and evil. He wanted them to know only the good, because by knowing the difference they would be forever faced with making choices when tempted. Adam and Eve had no idea what death was. God was merciful, for had they not tasted death, they would have lived in their sin forever. Gen.3:22 New King James Version (NKJV) 22 Then the Lord God said, "Behold, the man has become like one of Us, to know good and evil. And now, lest he put out his hand and take also of the tree of life, and eat, and live forever.
There is always a struggle to make the right choice. Even Paul had problems in this area. Romans 7-15-16. 15 I do not understand myself. I want to do what is right but I do not do it. Instead, I do the very thing I hate. 16 When I do the thing I do not want to do, it shows me that the Law is right and good. Satan's temptations always bring torment because now we are forced to make a choice between good and evil. It takes great fortitude to do the right thing.
God knew man would fall, yet He still chose to create us because He hungered for our fellowship. God is Love, and love begs to be shared. He made provision for our redemption through Jesus Christ, His Son. New King James Version (NKJV) 1 Cor. 15:21 For since by man came death by Man also came the resurrection of the dead.
We need to look to Jesus and His Word to overcome temptation. His Word tells us He is able to keep us from temptation, and that He will make a way of escape for us. When we feel ourselves being barraged by the fiery darts of Satan, we must call out to Jesus and quote His Word. It will be our overcoming factor and will bring us the victory over Satan's tormenting temptations.
Copyright © 2008-2015 Sylvia Hensel
Read more about the writer: Sylvia Hensel
---
Post Your Comment...
---