< Back to Strength for Your Spirit
Choose Light
"You are the light of the world. A city set on a hill cannot be hidden. Nor do men light a lamp, and put it under the peck-measure, but on the lampstand; and it gives light to all who are in the house. L et your light shine before men in such a way that they may see your good works, and glorify your Father who is in heaven." Matthew 5:14-16 NASB
"Therefore be imitators of God as beloved children." Ephesians 5:1 NASB
When you walk into a room and turn on the light, what happens? Yes, the darkness disappears. What if you flick the switch and the light does not come on? We assume that the light bulb is missing or the switch is bad. Also, if we walk in a room and it is dark, we assume that no one has turned on the light and we look for the switch to turn it on.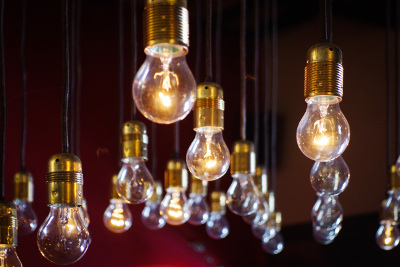 The Bible says that we, believers in Christ, are the light of the world. If that is so, why is there so much darkness? Are the light bulbs missing? Is the switch bad or have we simply failed to turn the light on?
To answer the question, we must first consider what the source of this light is. The Bible tells us that God is light (1 John 1:5) and in Him there is no darkness at all. Jesus said that He is the light (John 14:6). Since Jesus and God are one (John 1:1,14; 10:30), then the light bulb is Jesus who resides in us through the person of the Holy Spirit.
People who are merely religious and have not truly received Jesus are like the light fixture with no light bulb in it. They keep flicking the switch through religious practices like going to church, or helping the needy or maybe even singing on the choir but there is no light.
Their lives aren't any different from those who are in the world. They have no real joy, peace or genuine love. They have no real prayer life so they live in anxiety, fear and defeat. They are bored, unfulfilled, and insecure because they lack a true relationship with the living God. Worst of all, they are without eternal life.
Then there are those who have the life of God but they fail to flick the switch. They choose to walk in the darkness of their own thinking in order to remain in control. So, they look like the ones who do not have the light and darkness prevails. The switch is the power of choice that God gave man at creation and has never removed from him. It is what distinguishes us from the rest of nature.
The Power to Shine
It is God's desire for us to receive the light (Jesus) and turn the light on and leave it on. When we turn the light on, we surrender our will to the Holy Spirit and He shines through us and enables us to have fellowship with God through Christ. This is what it means to be filled with the Holy Spirit.
The Greek word used for filled indicates a continuous action meaning to be continually under the Holy Spirit's control (Ephesians 5:18). Galatians 5:16 KJV says, "Walk by the Spirit and you will not fulfill the lust of the flesh." When we do this, He will lead us and empower us to overcome the darkness in our own lives and consequently in our sphere of influence. Ephesians 5:1 gives us the key to living this out successfully.
Paul summarizes a discussion on this matter of distinguishing ourselves from the life of darkness (Ephesians 4:17-32) by admonishing us in Ephesians 5:1 to "be imitators of God as beloved children." This paints the picture of children who are well cared for and secure in the love of their father. Because they think he is the greatest, they desire to immolate him. So we too as children of the Most High God have the privilege of finding security and love in our most benevolent Father.
As we delight in Him, we have the privilege, responsibility and power to be like Him. Paul tells how we who were once so lost and in bondage to our own selfish desires can immolate such a great, loving God. In Ephesians 4:21-24, He listed three things we must do in order for this to happen.
The Process
First, we must lay aside our old self that was associated with our old manner of life. We must make a clean break from it. We must recognize the old attitudes, ambitions, actions and pursuits for what they are- lifeless and dead. Romans 6:11 , says to consider ourselves to be dead to sin and alive to Christ.
When we received Christ the old nature was crucified (Galatians 2:20; Ephesians 2:15). So, to walk in our old ways is to go about in grave clothes. We are admonished in Ephesians 4:22 to lay them aside as a garment because they no longer represent who we are. It is just a garment we have chosen to wear. It is like refusing to flick on the light switch. In Christ, we have the choice and freedom to take the grave clothes off and lay them aside. Just as we have the choice to flick on the light switch so that His light may be seen in us.
The second thing we must do to be imitators of Christ is to "be renewed in the spirit of your mind" (Ephesians 4:23). According to Strong's Concordance this refers to the very disposition of our minds/hearts. It is a complete renovation of our thinking and thought processes which transforms our actions, reactions, decisions, motivations, attitudes, etc (Romans 12:2).
I enjoy the home improvement channel on television. It is amazing to see how those contractors can take an old dilapidated house and turn it into a beautiful show piece. This is what happens to us when we submit ourselves to God's renovation process. We do the demolition as we lay aside the old self. The Holy Spirit is the general contractor and the tools and the materials are the word of God and prayer. The Holy Spirit uses the word of God to renovate our sin damaged soul to make room for the third thing we must do in order to imitate our loving Father.
We must "put on the new self which in the likeness of God has been created in righteousness and holiness of the truth." (Ephesians 4:24) Here the Holy Spirit becomes the interior decorator bringing in the furniture, appliances, light fixtures, window treatments of the house. We could say He brings a couch of peace, light fixtures of joy, curtains of love, etc.
As we yield to Him areas in our heart and life for renovation, more of the life of God can overtake us. As a result, we are filled with the Holy Spirit and the fruit of the Spirit, which is the nature of God, is manifested in us (Galatians 5: 22,23). Therefore, we begin walking in the light of His glory, presence and power. This is the light that overcomes the darkness. It is not simply what we do but rather the overflow of whom we allow to be in control of our heart. God has given us the choice.
Concluding Thoughts
I have presented two metaphors to illustrate one truth. God has called us to be lights in a dark world and He has given us everything we need to do it (2 Peter 1:3). It is up to us to first of all receive Jesus as our savior. This gives us the light bulb. It is up to us to flick the switch to turn the light on. This is done as we partner with the Holy Spirit by means of the word of God and prayer to take us through the renovation process.
We must do the demolition by removing the old dead things in our heart (the grave clothes). Then, we must allow the Holy Spirit to be the general contractor to remodel us as He renews our minds and the interior decorator to make us into the likeness and fragrance of Christ (Galatians 4:19).
God gives us a choice. It is one we make daily and even moment by moment as we face daily challenges. What will you choose - light or darkness; victory or defeat? Let's flick on the switch and partner with God in His renovation process as He makes us imitators of Him. Let's choose light! Let's pray.
Prayer
Lord God, I celebrate You as my loving heavenly Father. Thank you for loving me and drawing me to Yourself. Thank you for making a way for me through Christ to know you personally. I lay aside the old nature and I submit myself to Your renovation process. Make me like You that I may manifest Your light in this dark world that others may be drawn to You. I love You and bless You. In Jesus' name, Amen.
Copyright © 2008-2015 Shermaine Jones
Read more about the writer: Shermaine Jones
---
Post Your Comment...
---