< Back to Kitchen Keeper Recipes
Peanut Butter Oat Bars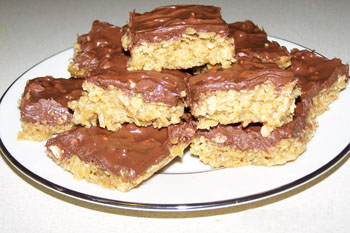 These are tasty for guests or for a special treat. I love anything with Peanut Butter!
What you will Need:
2/3 cup butter or margarine, melted
1/4 cup peanut butter
1 cup packed brown sugar
1/4 cup light corn syrup
1/4 teaspoon vanilla extract
4 cups quick-cooking oats
TOPPING:
1 cup milk chocolate chips
1/2 cup butterscotch chips
1/3 cup peanut butter
Step by Step:
In a mixing bowl, combine the butter, peanut butter, brown sugar, corn syrup and vanilla; gradually add the oats.
Press into a greased 13 x 9 x 2-inch baking pan.
Bake at 400ºF for 12-14 minutes or until edges are brown.
Cool on a wire rack for 5 minutes.
Meanwhile, for topping, melt all chips and peanut butter in a microwave or saucepan.
Stir until blended; spread over warm bar mixture.
Cool completely; refrigerate for 2-3 hours before cutting.
Yield: 4 dozen bars
Copyright © 2008-2015 Debbie Reynolds Harper
Read more about the writer: Debbie Reynolds Harper
---
Post Your Comment...
---