Sometimes You Gotta Know When to Surrender
Okay ladies, so how do you know when it's time to give up or when it's time to persevere? No, really, I'm asking you because I'm standing in awe right now . . . watching my two girls "exercising" in front of my aerobics video that I didn't really want to do in the first place but tried with everything in me to get through this afternoon.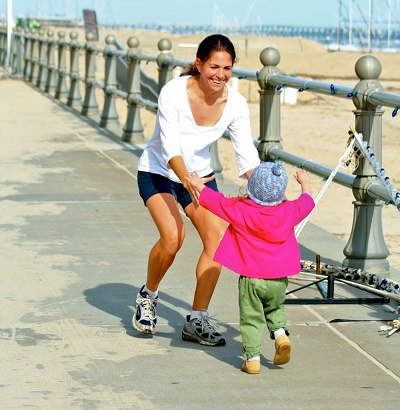 It started off reasonably well. I got my weights out, my little step and popped the ol' video right in. Then the music started. My youngest thought that was her cue to come in and start dancing. You know the kind of dance I'm talking about. Arms held above the head dangling, jiggling with every bouncy step she takes. Then the older and wiser daughter came in and decided, "Oh . . . surely Mommy needs help with this. Let's separate her step so that I, too, can exercise."
Now . . . though both acts may seem sweet to you (because you're not here right now), they both seemed a wee aggravating to me, as I need to lift the ol' buttocks and tighten that tummy - especially during these holiday festivities. So . . . what's a gal to do? I say you gotta know when you're beat, and clearly, at this moment, I am beat.
So, I reached for the box of peanut butter cups that my sweet neighbor friend brought over to me and I enjoyed a cup or two . . . okay three . . . and watched my girls exercise. The peanut butter is still healthy, right? And as for the chocolate, well, it helped make my situation seem a little more amusing as it calmed my nerves and brought a smile to my face.
So, what exactly is the moral of this story? I'm not really sure except I think I've decided that keeping an emergency chocolate reserve is not always a bad thing and my neighbor is a really great friend. I guess I'll try and exercise again tomorrow. After all, Scarlet O'Hara says it best with "Tomorrow is another day."
Copyright © 2008-2015 Cindy Aitken
Read more about the writer: Cindy Aitken
---
Post Your Comment...
---