Clipping Coupons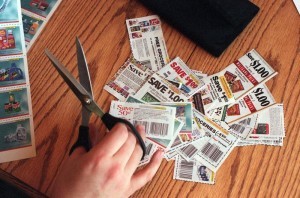 I've seesawed back and forth over the years on whether clipping coupons actually saves me money. Right now, I walk a middle ground. I clip coupons only when they meet certain conditions and skip them otherwise. They can be a valuable way to save money when shopping, but so can other shopping skills, so using the best combination of both gets me the best deal at the grocery store.
My "Coupon Rules"
I only use coupons when it's an item I would typically buy anyway. No spending $3.00 I wouldn't normally spend just because I'm "saving" 50 cents.
I compare the brand name price with the coupon to the store brand price and choose the best deal. Many times, the coupon doesn't actually save me any money. But, when it does, I use it for sure!
Keep your coupons organized so you don't miss out on using one by letting it expire or forgetting you have it when you buy an item. I like to clip my coupons and organize my coupon folder the day before I shop and while I'm making my shopping list, so I remember what I have the next day. I set aside a few coupons that I know I intend to use so that they are handy. My other coupons are organized in a file folder with categories organized by the way I walk through the store (personal care items first, dairy next, etc.)
Print online coupons. Check out www.couponmom.com It's my favorite!
Try to combine sale prices with your coupons so you get an even bigger deal.
Read your coupon carefully so you know what it requires. You may have to buy an incredibly large size or three of an item in order to save 20 cents.
Make sure the time you are investing in using coupons is worth it. I clip coupons out of the paper and I do print online coupons. I don't, however, travel to more than one store to use coupons to match items on sale at each location. That may be worth it to you, but it costs me time and gas money. It's easier for me to shop at the consistently lowest priced place in town and use my coupons there.
If you can shop without young children, it's your best bet for making wise coupon decisions. But, if you know you'll be shopping with some antsy kids, you may need to leave the coupons for another day. Saving a few bucks at the checkout isn't worth your sanity or losing your cool with some unhappy little shoppers.
Overall, make clipping coupons work for you and not the other way around!
Copyright © 2008-2015 Heather King
Read more about the writer: Heather King
---
Post Your Comment...
---