Creating Curiosity for Life-long Learning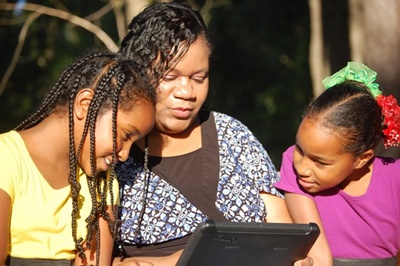 As I was walking out of the YMCA, I met a young woman with her four-year-old daughter. The daughter was dawdling and asking all types of questions while her mother was trying to hurry her up. We began talking and the woman stated that her daughter is curious about all things and is forever asking questions. I told her I hoped her daughter would always be curious. The mother warily responded with a quiet yes.
Instead of a quiet yes, the response should be a strong yes! As parents, we're responsible for our encouraging our children to be lifelong learners and nurturing their natural curiosity.
We need to first see that curiosity is a positive characteristic for a person to have, not a burden. Secondly, we must be willing to encourage curiosity in our children. How do we do this? By learning how to ask questions. Just like newspaper reporters need to remember the "Four wh and h" questions, we should also constantly ask where, what, when, why, and how.
Let's consider an example from my homeschooling experience. My husband was cleaning a garbage can in the summertime when he discovered a piece of meat infested with maggots. Being a teacher by nature, he called our children (about seven and five years old) over, showed them the piece of meat, and started asking questions: How do you think the meat got on the trash can? What are the little white things moving on the meat? How did they get there?
This sparked the children's curiosity. He was on his knees looking at the piece of meat from their viewpoint as he asked these questions. After explaining flies and eggs we can't see, he started a second set of questions: Do you think those white things - fly larvae – are good to eat (Caution: accompany this question with non-verbal negatives, like shaking the head and showing disgust at the thought, or you just might observe the child eating things to find out!).
The final questions centered on lessons to be learned: How can we keep flies from laying their tiny eggs on food that we're going to eat? The object here was to prompt an answer of covering food so that flies won't land on it. As my husband said, it was a perfect "homeschool moment" which the children still remember.
Other such moments abound, such as when your children are excited about a book they just read, a program they saw on TV, or a movie they watched. Museums are also great places to spark curiosity and questioning
Ask questions and encourage your kids to find out the answers. If they are preschoolers, ask questions and then research together by encyclopedia or Internet. Smile and enjoy the adventure of learning!
Copyright © 2008-2015 Patricia Stevens
Read more about the writer: Patricia Stevens
---
Post Your Comment...
---