No Unknowns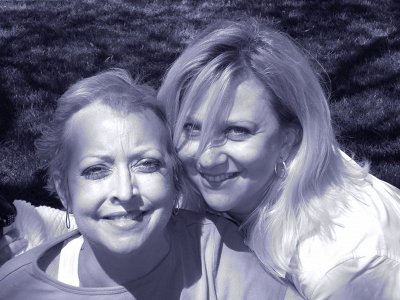 Karen's funeral was called A "Celebration of Life." No one felt much like celebrating, really. I actually wanted to punch a few people right in the face out of my own raw grief, confusion, and anxiety. Just being honest, here. To even sit today, months later, and allow my heart to speak through my...keyboard...takes effort and makes my eyes sting like mad. I haven't been able to put my thoughts to words for a couple of months now.

...So, there we all are. There is a palpable void in the midst of about 300 people. But, out of love for Karen, who has gone Home before all of us gathered here today, we make a valiant effort. For her, and for her family. All out of love. Nothing but Love. Most of us who knew Karen just sit there, and plaster a smile on our faces. As if anyone is fooled. Why do we continue to pretend like we never ache? Jesus! Help me!

I, for one, sat amazed. Not at how much Karen was loved, but by how many. Astounded at how she willingly gave her life to Christ; and how she brought many, many people to the Lord. For a woman who was unable to have any biological children, God smiled big at Karen, and blessed her like Abraham for her obedience.

Karen's stepchildren spoke about her strength and refusal to give up on them. Her stepson told those gathered that they were hard on her as their stepmom. They were rough, rejecting her time and time again. But, Karen bravely took that on, gave them unbiased support and love, and never stopped loving them. She never stopped believing what she believed, and she never compromised her faith to fit any one else's agenda. Karen never pretended to be someone she was not. While struggling with my own identity and purpose, Karen told me (not long before she died), "Do not EVER let anyone change anything about you. Not one little thing!" And, to this, I hold.

Karen was a warrior. Carlene, her younger sister, says that God told her that Karen would suffer. Oh, and she did. To those of us ordained to stand with her at the end of her life, it was maddening at times. It seemed cruel that God would allow her to suffer that much. Karen vowed to her Uncle Lowell, that she, despite the excruciating pain that sometimes accompanies cancer, "would not complain!...Ok, well, maybe a little..." Typical Karen!

She wanted to identify with her Savior that much! Can you imagine the belief and dedication and submission required from one of God's Chosen Ones to willingly participate in suffering? What madness is this?! Karen loved Jesus so wholly and completely, she knew in her soul what that really meant. To Karen, and to each of us who claims Jesus as Lord and Savior, King of Kings, we should hide this truth in our hearts as well. With Jesus, it is different. There are no unknowns.

Her brother, Kevin spoke with unabashed honesty. Karen left home and began her prodigal journey when Kevin was just a little boy. He freely shared the pain and devastation he felt when he clung to his older sister's leg and begged her, "Please don't go!" He carried the hurt and burden of that around for a long time. At the end of Karen's life, she was, again, thinking of him first when she told him, "I don't want to leave you again." She was acutely aware of the pain she had inadvertently caused him all those years ago.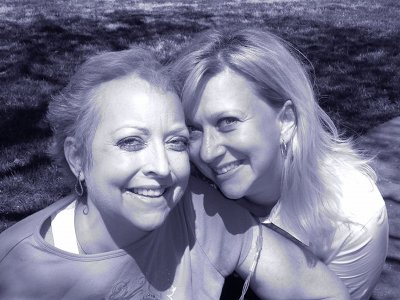 But, this time was different. It was ok with her baby brother that she go on. He gave her permission to do so, and the relationship was fully restored in that Divide. Kevin and his wife, Joy, vowed to pass down Karen's legacy of unconditional love to their sweet baby daughter, Blakely. "She will know my sister, Karen," he promised.

Her sister, Carlene, professed the unusual and deep love they have shared since before anyone could remember. When Karen began her prodigal journey, baby sister Carlene followed, as any baby sister might do when she has a sister she believes hung the moon. At the end of Karen's life, it was Karen apologizing to Carlene for influencing her so.

But, this time was different. Carlene would grow beautifully in Christ, love God no matter what, and pass the mantle of responsibility and love to her three beautiful little daughters. A legacy of hope multiplied for faithfulness! God is definitely a God of upgrades. This is assuredly part of the Great Exchange He has in store for those who choose to follow, serve, and love Him.

And, her parents, Pastor Jerry and Laura, painfully kissed their baby girl goodbye. Again. She walked out the door over 25 years ago into the Unknown. Karen's Mom and Dad loved her enough to let her go then. They turned her over fully to the ever-watchful eye of God, assured of the promise that their daughter would return someday.

But, this time was different. There are no unknowns with Jesus. They know their precious baby girl is in the presence of the Father! They grieve, yes. And, they rest, too, in the fact that Karen is with Jesus. The tables have been turned, and now Karen is the one who must wait. Bittersweet. At the Gates of Heaven, she watches for them to come Home. She waits now, ready to welcome them, finally, Home.

They all have returned to Christ, the Qualls' children. All made new in the promise of the Savior. Their children carry with them an eternal legacy, and my sweet friend Karen was part of the impetus that drove that. They all are impacting the world today for their unwavering love of Jesus Christ.

One of the countless benefits of a life given over to God . . . and so it goes with us as well.

But, this time, it is different. There are no unknowns with the Father. None. There are no unknowns with Jesus. Karen knew that. She . . . just knew.

"For if, when we were God's enemies, we were reconciled to him through the death of his Son, how much more, having been reconciled, shall we be saved through his life!" (Romans 5:10, NIV)

"I have come into the world as a light, so that whoever believes in me, shall not stay in darkness." (John 12:46, NIV)

I think of Karen now...free from pain, and released into an eternity whose full meaning, right now, we cannot even grasp on its edges! But, she knows! I think of her, singing at the top of lungs that are perfect, leading a huge chorus, "Every doubt erased, forever worshiping the King..." And, sometimes, I can't help but be a little bit jealous.
Copyright © 2008-2015 Jodi Crago
Read more about the writer: Jodi Crago
---
Reader Comments...
2011-03-02 18:07:40
"Powerful, stinging my heart as I remember loosing an irreplaceable friend to cancer. And I too 'can't help but be a little bit jealous.' Thank you for your thoughtful and full of hope article!"
- Cindy
2011-03-01 22:06:21
"I am so sorry for your loss. Thank you for an eloquent anc honest response to the pain of suffering confusingly mixed with the comfort of faith. May the Lord continue to minister to you as you wrestle with it--as we all do. "
- Lisandrea
---
Post Your Comment...
---