<Back to Friends
Jodi Crago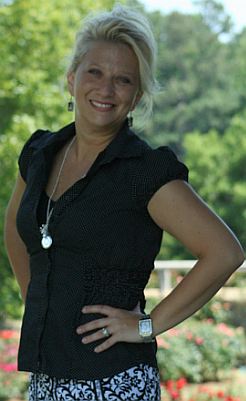 After perusing the amazing achievements of her co-conspirators, Jodi feels deeply motivated to fabricate a fairytale-esque bio: It would most likely include cures for exotic diseases, her initialization of a Global Reforestation Program, a couple of heart-wrenching "love-in-wartime" stories, and perhaps her discovery of a new planet or something. Oh, yeah...and a Nobel Prize. Or two. Or five.
Not really. Jodi is a native of Davenport, Iowa. Throughout her entire life, Jodi had "believed" in God, but, to her, God was just plain MEAN. He was distant. Disinterested. He had blessed her with much. He gave her an ability to look at things with unique insight and the ability to find humor in the tiniest of things.She could not see His Providence and Love laying down the foundation of His protection. She was utterly lost in her circumstances. She didn't even know who God really was...yet.
After earning her college degree in nursing, Jodi and her family relocated to Virginia...far removed from her previous life. Within a year, she was reintroduced to God. And, He had another name: Jesus. But, it would take another seven long years of shaking and sifting to change her heart. Today, Jodi enjoys a relationship with God that literally changed her life. She is humbled, amazed and grateful for the way He loves her and takes care of every aspect of her life.
Jodi is a freelance writer and artist in Virginia Beach, Virginia, where she lives with her husband, Art, (the love of her life), their four children: Nina, Benjamin, MaryKate, and Sophie; and exchange student/daughter this year from China, "Coco." Jodi's family continues to enjoy relationships with two previous exchange students, who are truly considered part of the Crago family: Wiebke (VeeVee), from Germany, and Wilhelmiina, from Finland. Jodi and her husband are both active in Glad Tidings Church in Norfolk as ministry leaders. The family spends a lot of time together and with friends laughing and enjoying life.
The unusual call on her life from God was that she be "transparent" for Him, to share with others her observations without fear of judgment. Her ridiculously convoluted testimony provided the groundwork, so the hardest part was already done! And after all, she had earned her honorary Ph.D. in "Been There Done That-ology"...now it was time to use it. For God. The Lord impressed upon Jodi that people need other people to "be more real", and "stop pretending to be holy and perfect." ...that she actually could be a voice for God.

| | |
| --- | --- |
| Articles by this writer: | Recipes by this Writer: |
| | |
<Back to Friends