Beach, Birds, and F-18s: A Love Story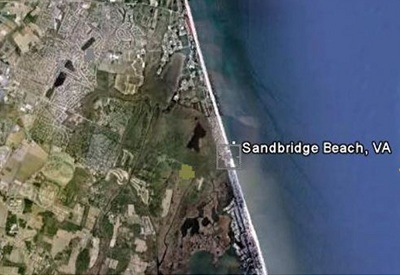 "He will cover you with his feathers, and under his wings you will find refuge; his faithfulness will be your shield and rampart." (Psalm 91: 4, NIV)


To get there, I only have to turn right-left-right. The landscape is vast and changes every couple of miles. The last mile or two of the sheltered winding road cuts through a preserve loaded with wild lotus ponds, a salt-marsh, and inquisitive, elegant herons tiptoeing through the high-tide bra ck. The end of the road takes you directly to the oceanfront. The water at this time of year is a stunning blue and green combination that reminds me of Phoenician pottery I saw in a museum once. The beach was also quiet in the crisp late winter of the Old Dominion.
The Neighborhood Hang-Out
The modern inhabitants who call the Virginia Coast home all know the best time to enjoy the beach is when all of the tourists have gone. I'm sure the shop and restaurant owners love making money hand-over-fist on t-shirts and Crab Cakes in the summer. I am also certain they love it when the harried and hot summer buzzing gives way to tranquil solitude and cold, salty winds in the off season. Being a mother of an animated brood, quiet is a luxury. Oh yes, and did I mention the Navy jets?

Oh, those Navy jets! Every eleven minutes, a group of four F-18s thunders by and rattles my teeth. Despite a moderate hearing loss, I can still hear those! Maybe that's why I love watching them.
If I keep my palm on the sand, I can feel the rumble before I hear the scream of the engines. That's usually followed by some kind of precision maneuver, and their disappearance into the horizon. Again and again, they had my full attention each time they flew by. Amazing, the mechanism of flight and the ingenuity of the machine, melded together. It has always fascinated me, flying. When I was a little girl, my Dad used to take me to the airport just to watch the planes take off and land. Those moments I count among the happiest and most comforting ones in my life. It continues to affect me so to this day. I am one of the saps that get head-to-toe goose bumps just watching it.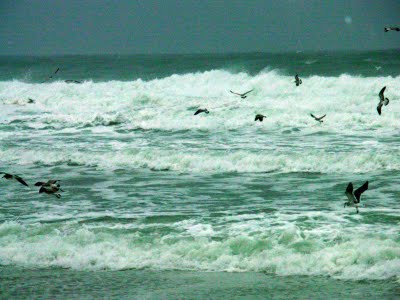 A Quirky Recipe for R & R
I was craving that kind of solace a few months ago when I needed to clear my head. I must have thought the emotional cobwebs and confusion would get caught up in and carried away in those gale-force winds. I hesitate to get any more mundane. I am not easily swept up into these prosaic moments and grand displays of heart-wrenching drama. I usually can keep my cool, maintain objectivity, and remain level. I said usually. Years of working as a nurse in genuine life-and-death situations tend to make you quite numb. But, current situations in my life leave me feeling unsettled. So, off I went, par ma-meme.

Apparently, I am not the only one who does this, because there were scattered loners all over the beach. Every once in awhile, we would all look around, squint into the sun and check our collective watches. We were all part of the same ruse: "Uhhh, yeah...I'm just here because I'm waiting for a friend who likes to do this queer stuff. Because, I- I have it together and never need to regroup. And, right now, I am overly fascinated with this song on my iPod." I had neither a watch nor an iPod.
Geeeee…I hope no one noticed that.

I was going back and forth between praying, reading, writing, enjoying my very own private F-18 Air Show, and watching the seagulls fly around. They always look like kites, just awkwardly hanging there, floating around on the wind, barely flapping their wings. Every once in awhile, the little feathered opportunists would venture within my reach, squawking and demanding to be addressed. They are fearless! They think they are your friends, and are therefore invited to every mini-fete they fly into. Generations of gulls and humans in close proximity have completely erased their fear gene. They just don't have it.
Lost in Thought
What a strange combination of things that provided just what I needed. What amazes me is how well God knows me. Only He can bring that odd conglomeration of things together in one afternoon. It was perfect. It gave me a chance to think without being interrupted. For almost two hours, I sat there, my feet in the sand, asking the Lord to just keep helping me make good decisions. I asked for direction in prioritizing and sorting out the minutiae of my life. Some things needed resolution or a different outlook. They all need prayer. I just let my thoughts take me wherever they wanted to go. 

My thoughts wanted to go to the beach that day. In fact, I am quite certain they chased me there.
Copyright © 2008-2015 Jodi Crago
Read more about the writer: Jodi Crago
---
Post Your Comment...
---