< Back to Kitchen Keeper Recipes
The Real Thing - Mac and Cheese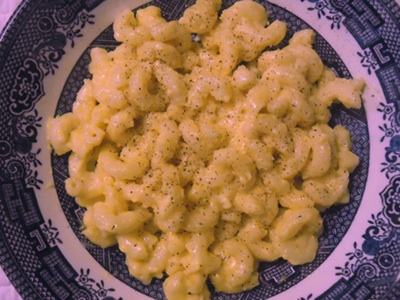 My family and I, as part of a healthy eating plan, incorporate the use of as many REAL foods as possible. "God doesn't make junk," right? And natural foods are always better, and moderation is always the key.
Consuming foods that are labeled "reduced fat, reduced sugar, no cholesterol," etc. have often altered the chemical structure of the natural components and replaced them with unhealthy chemicals and synthetic equivalents. All in the name of saving a few calories and fat. So…enjoy eating the real thing!
I always have to preface my recipes with: all measurements are approximate. Take them, ingredient-by -ingredient, and alter as you see fit.
First, make a roux on medium to medium-high heat:
Melt butter first. Add chicken broth. Whisk in flour until smooth.
½ c. butter (yes, BUTTER, the REAL deal…no fake stuff)
½ c. chicken broth
2 TBS. flour
Then, add:
1 c. heavy whipping cream (or half-and-half)
1 ½ c. shredded cheddar cheese
Heat and blend all ingredients over medium heat until smooth. Pour over cooked and drained macaroni noodles. Stir in thoroughly.
Cover serving dish with damp paper towel or waxed paper (avoid the dangers of using plastic wrap in the microwave) and cook on high in the microwave for TEN minutes.
Let stand for a few minutes before serving.
And, remember, this is one of those dishes that is even better the next day.
Copyright © 2008-2015 Jodi Crago
Read more about the writer: Jodi Crago
---
Post Your Comment...
---