< Back to Kitchen Keeper Recipes
The Best RED VELVET CAKE in the Galaxy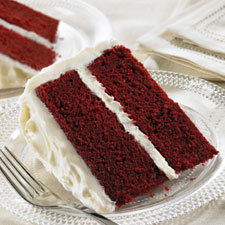 Try serving up something grand and beautiful that is sure to be a favorite! This red velvet cake is delicious!
Ingredients:
• 3 tablespoons unsweetened cocoa powder
• 2 ounces red food coloring
• 1 cup buttermilk
• 2 teaspoons vanilla
• 1/2 cup shortening
• 1 1/2 cups white sugar
• 2 eggs
• 2 1/2 cups sifted flour
• 1 1/2 teaspoons baking soda
• 1 teaspoon white vinegar
• 1 cup milk or half-and-half
• 5 tablespoons all-purpose flour
• 1 cup white sugar
• 1 cup butter
• 2 teaspoons vanilla
Cake Directions:
Grease two 9 inch round pans.
Preheat oven to 350 degrees F.
Make a paste of cocoa and food coloring.
Set aside.
Combine the buttermilk, salt and 1 teaspoon vanilla.
Set aside.
In a large bowl, cream together the shortening and 1 1/2 cups sugar until light and fluffy.
Beat in the eggs one at a time, then stir in the cocoa mixture.
Beat in the buttermilk mixture alternately with the flour, mixing just until incorporated.
Stir together baking soda and vinegar, then gently fold into the cake batter.
Pour batter into prepared pans.
Bake in the preheated oven for 30 minutes, or until a toothpick inserted into the center of the cake comes out clean.
Allow to cool completely before frosting.
Refrigerate until ready to serve.
Icing Directions:
In a saucepan, combine the milk/half-and-half and 5 tablespoons flour.
Cook over low heat, stirring constantly, until mixture thickens.
Set aside & cool completely.
Cream together butter, 1 cup sugar and 2 teaspoons vanilla until light and fluffy.
Stir in the cooled milk and flour mixture, whipping until icing reaches spreading consistency.
Frost cake and sprinkle with colored sugar crystals.
Refrigerate until ready to serve.
Copyright © 2008-2015 Jodi Crago
Read more about the writer: Jodi Crago
---
Post Your Comment...
---