A Warm Hearted Friend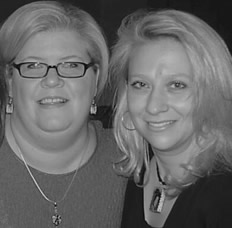 There have been so many times in my life that I was so snagged up in myself, I was blind to the things that God had blessed me with. One of those things is my friendship with an extremely loyal friend, Michelle Heaton.
Michelle and I met over 20 years ago through a mutual friend. We hadn't even known each other a full day when we decided that a weekend trip to Chicago was in order. Chicago was only 2 hours away, and we had about 78 cents between us. Literally. We always seemed to have fun, despite the lack of funds or sleep. We would trek around in whatever rusted-out vehicle was currently not a safety hazard and listen to "ye olde Amy Grant tapes." Contrary to modern belief, tape decks are NOT mythical. We were there!
Our friendship is one of those friendships that boasts countless "private jokes" and funny stories. Our collection is so huge, it is housed on it's own floor in The Library of Congress. We have invented our own goofy vocabulary words, nicknames for almost everyone on the planet, and we used to amuse ourselves by hand-drawing cartoons and menus. We would make "catalogs" full of completely tacky and unnecessary items: "giant inflatable hammers and crochet car covers." Like I said..."private joke." We would sit in restaurants until three o'clock in the morning, laughing hysterically...until everything was hilarious. We even shared a small "studio apartment" in her parents' home when they opened their hearts and house to me as if I was their daughter, too.
| | |
| --- | --- |
| | |
| Nina and Ian. | |
We both share and interest and love for artsy things. We used to make some of our own clothes and collaborate on the designs. We both love to make jewelry, decorate our homes, and bake. Michelle is a glass bead artist, and I think that is just so cool! She is the only one I know who does that. When she does something, she does it ALL THE WAY and beyond. She is fiercely devoted to whatever cause or purpose is current.
We both have been in each others' weddings, and we each have four kids. Our two oldest children are six weeks apart in age, so they share a bit of history as well. Last year, Michelle lived with our family for a few months while she was going to school to be a bench jeweler. Her oldest son, Ian, visited during his spring break, and we took everyone to the beach. We found a sculptured fish display that we used as a backdrop for a picture of Ian, and my oldest, Nina almost 13 years ago! We took an updated version for comparison, and how special those photos instantly became.
| | |
| --- | --- |
| | |
| | Nina and Ian...13 years later. |
We also share the same twisted sense of humor, and when we get together, there is a dynamic that you can almost feel. Planets collide. I thank God for Michelle, her humor and her heart. She is truly, TRULY one of the most loyal, warm-hearted people I know. We have been through a lot together, and I miss her. She is 1200 miles away, but modern technology via email, facebook, and webcams is taking care of that for now. Geographical distance may have altered the amount of time we have gotten to be in the same room together, but it has only made me MORE thankful and appreciative of what a wonderful friend "Mee-shelle, ma-belle" has been...and is. "Jodi-oldy-lady-whoooo" is grateful. Always.
Copyright © 2008-2015 Jodi Crago
Read more about the writer: Jodi Crago
---
Post Your Comment...
---