< Back to Kitchen Keeper Recipes
'You Betcha' Wild Rice Soup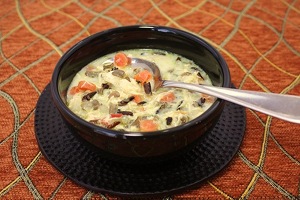 It has been said that wild rice is the most expensive grain in the world and it may well be. But when it is prepared in your favorite recipe, it always seems to be worth every cent. Here is one of my favorites, passed down from my wonderful mother-in-law. It is simple and you can change any of the ingredient amounts according to your taste!
Basic Ingredients

1 cup cooked long grain wild rice
½ large onion, finally chopped
1 cup chopped celery (include leafy tops)
4 cups chicken broth
1 cup half and half or evaporated milk
Sea salt and fresh ground pepper *
Fresh parsley
Ingredients of Choice – Add any according to your taste

A bit of garlic
Grated carrots or mixed veggies
Pre-cooked meat, such as chicken, deli meat, pepperoni
Creamed corn (my little secret to add sweetness)
Mushrooms
Red or yellow pepper
…and the list can go on…
Preparation

Prepare wild rice according to package directions.** I suggest undercooking because it will continue to cook in the soup.
Sauté onion, garlic in a mixture of butter and flour. I often add the celery and mushrooms for a bit.
Add all ingredients in a kettle and bring to a light boil, then turn down to simmer. Cover and cook for at least an hour. I prefer to simmer for a few hours. Stir often.

* Experiment with spices. I often use coriander and cayenne pepper, or a medley of Italian seasonings if I use pepperoni.
** Basic instructions: Rinse rice. Use one part rice to four cups water. Bring to a boil. Cover and simmer for about 45 minutes. One cup rice makes 4 to 5 one-half cup servings.
Copyright © 2008-2015 Cynthia Newman
Read more about the writer: Cynthia Newman
---
Post Your Comment...
---