< Back to Kitchen Keeper Recipes
Hot Tamale Pie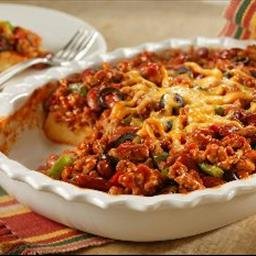 Here is a 'warm-ya-up' dish to enjoy during our last days of winter.
Ingredients:
1 lb. ground beef
2 packages corn bread mix (about 7oz. ea.)
2 eggs slightly beaten
1 can (17 oz) cream style corn
¼ cup milk
1 cup finely chopped onions
1 4oz. can hot green chilies, drained
1 8oz. package shredded sharp cheddar cheese
Salsa
Directions:
In pan, sauté onions (if desired).
Remove and put aside.
In same pan, cook beef and drain.
Combine corn bread mix, eggs, and milk in a bowl.
Add corn.
Mix thoroughly with spoon.
Pour ½ corn mixture into a 7 x 11 baking dish.
Sprinkle with beef, onions, chilies, and cheese.
Pour on remaining corn batter and spread evenly.
Bake uncovered 400 degrees for 30 to 35 minutes.
Serve with salsa. A side of fruit tastes great with this dish.
Copyright © 2008-2015 Cynthia Newman
Read more about the writer: Cynthia Newman
---
Post Your Comment...
---