Don't Give Up: How to Make Piano Lessons Work for Your Child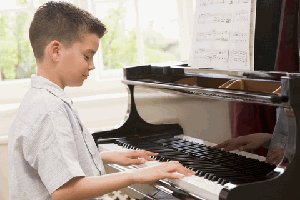 When I taught piano lessons, parents shared with me many different reasons for having their kids learn the instrument.
I know my child is the next Mozart. You should hear her sing Old MacDonald.
I quit when I was six and I never forgave myself.
She really wants to play the piano.
He really wants to play the drums, but I want him to start on the piano first.
Lots of reasons to start and yet generally only one reason to quit---My child doesn't practice.
Even the most enthusiastic and talented kids often succumb to the pitfalls inherent in learning a new skill. They often give up.
There are some basic things parents can do, though, that will give kids the best chances at success with music lessons. Below are some answers to frequently asked questions, as well as some suggestions for success.
Why is the piano a good place to start?
Any instrument can be learned as a "first instrument." Still the piano is one of the easiest ways for kids to learn foundational music theory because of the linear keyboard. These skills cross over to all other instruments, including voice.
Suggestion: If your child really wants to play another instrument, ask them to take piano lessons for at least a year first. Then, after they've learned some of the music fundamentals and practiced some responsibility and discipline, you can decide where to go from there.
Why take lessons at all?
One of the responsibilities God has given parents is to help our kids discover their gifts and develop them fully for the glory of God. As it says in Proverbs 22:6, "Start children off on the way they should go, and even when they are old they will not turn from it" (NIV). You may not ever know if your child has a musical talent until they've at least tried an instrument.
Piano lessons also teach some truly important life skills---whether or not your kids are mini-Mozarts. Kids can improve fine motor skills, hand-eye coordination and dexterity by playing the piano. They also learn discipline, responsibility and perseverance.
Suggestion: My parents had each of their kids take piano lessons for one year before we could decide to switch instruments, quit completely, or stay with the piano. This was a great way to discover whether or not music was our "thing"---our gifting.
Do you need a piano?
Others might disagree, but I believe the answer is yes. Keyboards don't cut it when it comes to piano lessons. An electric piano is fine because the keys are weighted to feel like a piano and it will have a pedal and basic piano structure. Or, you can often find used pianos inexpensively and possibly even for free in the newspaper, especially when people move.
Where to begin?
Many adults can easily pick up some basic music and piano skills from a beginner piano method and pass them onto your kids. I encourage parents of young kids to start with some basic piano concepts at home. Maybe ask someone you know who plays the piano to show your kids how to sit and place their hands on the keyboard and give you some starter tips. Check out piano methods such as Alfred or Hal Leonard for the very beginning lessons.
See if you and your child are able to find a practice schedule that works for your family. Kids need consistent practice all week long (not a 30-minute cram session before the weekly lesson). Before paying for lessons, make sure you can fit practicing into your family life.
If your child seems to be able to handle the concepts, motor skills, and responsibility, then seek out a teacher in your area. You might find a teacher who belongs to the National Guild of Piano Teachers, so your child can participate in consistent competitions that gauge his/her skill over time against a national standard. You may also want to know whether or not the teacher holds recitals so that your child practices performance skills.
Why doesn't my child practice?
It's a rare child indeed who willingly and consistently practices the piano on his or her own---especially in the early days. Many parents, though, just assume children are going to practice because they love the instrument so much. It just doesn't work that way. You'll need to set up a practice schedule and hold them to it---with rewards and consequences if necessary. Some teachers have kids complete practice logs throughout the week. The bottom line is that practicing cannot just be left up to the child.
Most importantly, encourage your children to keep going and not give up too soon. The longer he or she plays the piano, the easier and more fun it will become. I tell my daughter all the time that the best things in life are the ones you work hard to achieve. That's a lesson worth learning indeed!
To keep up with Heather King, check out her blog at http://heathercking.wordpress.com/
Copyright © 2008-2015 Heather King
Read more about the writer: Heather King
---
Post Your Comment...
---