God's Good Herbs - Peppermint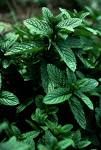 We commonly think of peppermint as a flavoring used in candy canes, peppermint patties, mints, chewing gum, tea, ice cream and non-food products such as toothpaste and mouthwash, but you may be surprised to learn that peppermint oil has many substantiated medicinal properties and benefits.
The peppermint herb, one of 25 species of mint known throughout Europe and North America, is actually a hybrid of water mint and spearmint. It was first discovered in England with its inception in the London Pharmacopoeia taking place in 1721. The active constituent of peppermint, found in the leaves and flowering tops, is menthol, which is what produces its cooling sensation and medicinal qualities. The essential oil, distilled from the fresh cut plant, is one of the few that is safe to take internally or apply to the skin undiluted.
Medicinal Benefits of Peppermint
The antispasmodic action of peppermint oil makes it useful in soothing the gastrointestinal tract and relaxing the muscles in the intestinal wall, which gives relief in many ailments such as gastritis, irritable bowl syndrome, motion sickness and cramps. Peppermint is one of the oldest and best-tasting home remedies for suppressing symptoms of indigestion, which is why mint-flavored candies are popular after-dinner treats. In addition, studies show peppermint lessens the amount of time food spends in the stomach by stimulating the gastric lining, making it an excellent choice for heartburn and stomachache. The next time you feel a bit queasy, or overindulge in a meal, try sipping a cup of hot peppermint tea.

Another medicinal effect of peppermint oil is easing headaches when applied across the forehead. A study on the effect of peppermint oil on tension-type headaches was conducted in Germany in 1996 where 164 headache attacks of 41 people were analyzed. It was found that a locally applied ethanol solution of 10 percent peppermint oil significantly reduced headache pain in the experimental group within 15 minutes, just as effectively as 1,000 mg of acetaminophen given to the control group.
When taken orally as tea or capsules, peppermint can also be used for relieving respiratory conditions such as colds and cough as well as bacterial, fungal, and viral infections. It may be inhaled as oil for soothing irritated nasal passages from allergies and can be rubbed on the chest for comfort and relief in respiratory ailments. Because the smell of peppermint is considered to be energizing, it is often used in aromatherapy to reduce sleepiness and improve alertness. Peppermint oil applied to the skin increases the blood flow, causing the skin to redden which produces a feeling of warmth that helps to relieve muscle or joint aches. Additionally, it may be applied directly to cavities, gums, or teeth to relieve toothache and teething; and it may also lessen the itching of mild skin conditions, insect bites, and rashes.
Available Forms of Peppermint

Peppermint tea is generally available in tea bags
wherever herbal teas are sold. It can be made by soaking a tablespoon of dried peppermint leaves in 6 ounces of boiling water for 10 to 15 minutes and then straining the solid particles. For oral use, peppermint oil comes in soft gelatin capsules that are enteric coated for resisting stomach acid though it is still a good idea not to take it too close to meals. The most versatile form for using peppermint is in an essential oil. However, as a note of caution, aromatics with a high essential oil content such as peppermint are particularly susceptible to retaining petroleum based pesticide residues which can be concentrated in the distillation process; so select only organically
produced essential oil.
Copyright © 2008-2015 Lucinda Bedogne, CNHP, CNC
Read more about the writer: Lucinda Bedogne, CNHP, CNC
---
Post Your Comment...
---