Cultivating Compassion in Children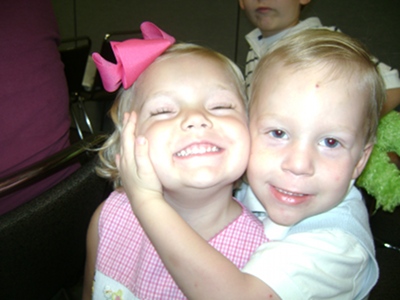 "Mom, Terri has a boo-boo. Can you make her feel better?" Aren't these precious words ? Moms and Dads long to hear that their child has compassion for their sibling. How does a parent help instill this virtue?
We, as parents need to be on the lookout for situations that demand compassion and we need to model what compassion looks like. William Bennett articulates:
Compassion takes its stand with others in their distress. It is an active disposition toward fellowship and sharing, toward supportive companionship in distress or in woe. Compassion challenges us to answer the question,' Who is your neighbor?'
My one-year-old grandson met our dog for the first time. His father (our son) showed him how to gently touch and pat the dog. Each time my grandson was too rough, my son would take his hand and say "gentle." Eventually, my grandson learned how to be gentle. Introducing children to animals and holding their hands in yours is one of the ways to show how we are to take care of God's creatures.
Our children also need to be taught that the various "isms" are wrong. Be aware of racial, ethnic or sexual comments that need to be eliminated from our vocabulary because our children imitate us. How can we break the pains of prejudice unless we stop stereotyping people instead of looking at the individual hearts?
Literature provides many examples for children to listen and learn about. One of my favorite fables is "The Lion and the Mouse." When the McGuffey's Second Reader was part of the curriculum, one of the poems that was required to be memorized was called "Beautiful":
Beautiful faces are they that wear

The light of a pleasant spirit there;

Beautiful hands are they that do

Deeds that are noble, good and true;

Beautiful feet are they that go

Swiftly to lighten another's woe.
Emily Dickinson wrote a poem called, "If I Can Stop One Heart from Breaking," which encourages people to perform acts of compassion and thereby add meaning to their lives. Who can forget the short story by O. Henry entitled "The Gift of the Magi"?
I believe that performing acts of compassion with your child will help cement this virtue in your child's character. Ever since my niece was two years old, my sister-in-law would bring her to a nursing home, where she would greet the elderly patients by saying hello and shaking hands. My niece is now seventeen years old and one of the most giving and unselfish young adults that I know.
I end this article with this challenge to parents: model the practice of showing love for your neighbor through compassionate acts. The results will in turn be a blessing to many!
Copyright © 2008-2015 Patricia Stevens
Read more about the writer: Patricia Stevens
---
Post Your Comment...
---