First Dance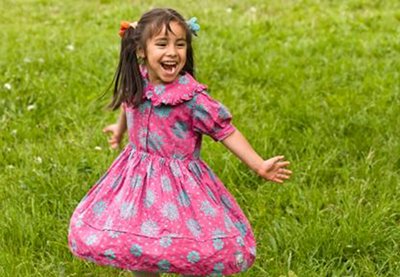 My 3-year-old daughter, Gwen, loves people of all shapes and sizes. Our family celebrated a wedding a few weeks ago, and Gwen was her usual "socialite" self. She believed it was her wedding, but she generously shared it with the real bride, Aunt Kathryn. She triumphantly marched down the aisle and smiled as she tossed petals in the air. It was a good day for Gwen.
After the ceremony, guests mingled on the lawn outside the reception room. Gwen found all the children her age in a matter of seconds, and was particularly drawn to a special little boy during this time. He was about six years old, blond, and very small. He sat with his parents on a bench and a child-sized metal walker rested next to him. It was clear that the little boy had a physical disability. Before long, Gwen had taken his walker and was running around the grass with it, pushing and swinging on it.
I gasped. How embarrassing! I signaled to my husband, who was closer to the scene. He pulled Gwen from the walker, and she was not happy about it.
Later, inside the reception room, Gwen made a beeline for the little boy. She took the empty seat next to him and they played with his Leapster. Meanwhile, I was caught in one conversation after another. I tried to keep an eye on Gwen while I visited with guests. I hoped that she wasn't annoying this boy's parents.
Just before dinner was served, party music played loudly. I glanced at the dance floor, and there was Gwen, dancing her heart out. Right next to her was the boy, wiggling around as best as he could while bracing himself with his walker. Tears sprang to my eyes as I watched his enthusiastic attempt.
The groom's brother happened to be sitting next to me.
"He never goes anywhere," he said. "It's too hard for his parents to take him out. I overheard your daughter ask him to dance. This is the first time he's ever danced."
He went on to tell me that the little boy's name was "Jake." He was born prematurely, and had cerebral palsy among other things. The prognosis for Jake wasn't good; he wouldn't live long. Doctors had just discovered another problem with the little guy, so in a few weeks, he would undergo chemotherapy.
It hit me that Gwen had profoundly blessed Jake that night. She didn't know that he was sick. All she saw was a friend. She wasn't worried about ministering to him or making him better. She loved him just because he was.
How much more could God accomplish if we saw others as a love-challenge and not a ministry-challenge?
My most cherished moment that night was watching Gwen swirl in her puffy tulle dress next to little Jake. I'll never forget how his blue eyes shone behind his thick glasses. When it was time for Gwen to leave that night, she gave Jake a hug and told him she loved him.
Copyright © 2008-2015 Rhema Peet
Read more about the writer: Rhema Peet
---
Reader Comments...
2011-09-15 14:04:31
"This article made me cry! What an inspiring story from such a talented writer!"
- Amy
2011-09-10 15:54:03
"It brought me to tears!"
- Svetlana
---
Post Your Comment...
---