Kid's Corner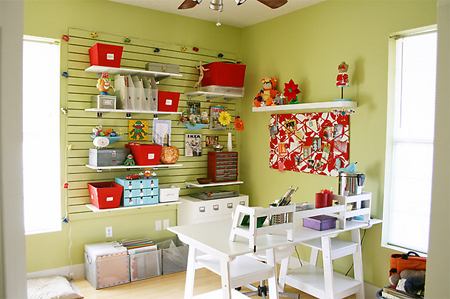 Do you have a bare corner in your home that needs some excitement? Maybe a cool computer, some colorful maps, adventurous books and some mystery puzzles can help solve that problem.
A Kid's Corner could be placed in a corner of a family room, entertainment room, unused dining area or bedroom. Since children love hideouts, the space could simply be a secluded nook blocked by larger furniture, bookshelves or a decorative folding screen. They feel like grown-ups when they have their own desk and computer and sometimes will act more like it. Now that's a plus for parents!
Here are the basics you will need to create a Kid's Corner in your home:
A desk or flat working surface is a necessity.

A separate table or child-size picnic table is needed for board games, Lego's, or puzzles. You may be able to find a low craft/cocktail table with two large rolling drawers underneath. This can be helpful in storage, as well.

Add 2 or 3 chairs -one that spins is especially fun.

A sturdy bookcase is needed to store puzzles, games, and, of course books.

Include exciting novels, classics, and devotion books to read.

Nature books on fishing, bird watching or cave exploring are interesting.

Kids' cookbooks on how to cook certain food and eat it too! (You never know when they might be inspired to help in the kitchen.)

Maps are interesting to children and help them learn geography in a fun way.

Set up a row of magazine holders that contain brochures and coupons for sightseeing and other fun adventures in your area like miniature golf, canoeing, or kayaking.

Have plenty of brightly colored notebooks for keeping journals or to provide a canvas for doodling or drawing.

Include containers of various sizes that can be filled with arts and crafts supplies (i.e. construction paper, scissors, glue, cut-outs, markers, etc.)

Stock photo albums, photo stickers and templates to make a photo album of their trip to the beach, the mountains, or to summer camp.

Supply tools to build a model of an airplane, a lighthouse, or a pirate ship.

Of course, in today's world, you may want to include computer games. There are several children's programs that can teach them a foreign language, typing, musical composition, design and math skills.

In most homes, these items are spread out in many different areas, whereas now they can all have their own little home. Parents won't have to ask "Who has the scissors?" for the umpteenth time! Plus, it's a great way to occupy the kids while scrambling to get dinner made, unless of course it's the kids' turn to cook from their cookbooks.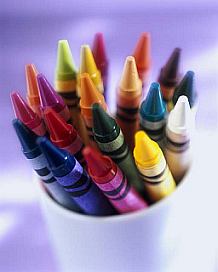 This area would provide a great way to teach facts about history when they thought they were just having fun! Help your kids discover their creative side and you never know- they may help you do the same! Teach them how to use the computer wisely and build their interest in researching places to sightsee, places to eat and places to explore on a family outing or annual vacation!
You many want to take the kids on an adventure to collect things to bring back to their special corner. Teach them how to be creative and make lasting memories of special keepsakes. Make use of their collections of rocks, shells, or pebbles and decorate a lamp or a flower pot. Help the kids develop their pictures to make special photo albums and decorate the cover with butterflies or leaf prints. The same can be done for picture frames to give as gifts for grandparents. Save a footprint or handprint by using Plaster of Paris in a pan or bucket.
There are so many things to learn and discover that everyone should have a Kid's Corner- just to celebrate the fun of being kids!
Copyright © 2008-2015 Suzanne Newton
Read more about the writer: Suzanne Newton
---
Post Your Comment...
---