New Cookwear for Christmas?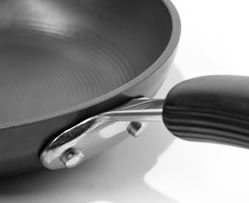 Who doesn't enjoy the ease of clean-up with nonstick cookware? First used in the 1960's, nonstick cookware was considered a healthier method of cooking in that fewer fats and oils were required. However, in 2005, an EPA (Environmental Protection Agency) Science Advisory Board recommended that the synthetic chemical, PFOA (Perfluorooctanoic Acid) used in the manufacturing of traditional nonstick cookware coatings, be classified a "likely" human carcinogen rather than "possible" human carcinogen as it had been previously classified. PFOA is what gives non-sticky substances their "non-stickiness" and the coating itself is called polytetrafluorethylene (PTFE)—most commonly known by its trademark name "Teflon."
The Perils of PFOA
Though scientists haven't discovered the full extent of the damage PFOA can do, 16 peer-reviewed studies over the past 50 years conducted by the Environmental Working Group, a nonprofit research institute, have shown that PTFE produces toxic airborne particles and fumes that can deposit deep in the lungs when it is heated to temperatures above 464 degrees. It has been linked to cancer, lung damage, low birth weight and suppressed immune systems in tests on laboratory animals.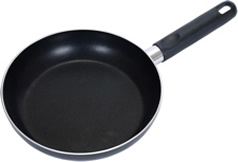 The fumes released when this substance is overheated have been known to produce flu-like symptoms known as "polymer fume fever," a fact clearly acknowledged on the website of DuPont, the maker of Teflon. The fumes have also been known to cause the deaths of thousands of canaries and other pet birds kept in kitchens exposed to these fumes.
Studies have revealed that PFOA residues are present in low levels in the blood of nine out of 10 Americans and most newborns. In some cases, the human blood levels at which this chemical is showing up is getting too close to those shown to harm laboratory animals. Though not officially regulated by the EPA, companies that make this compound were asked in 2006 to work towards eliminating its use by the year 2015.
Using Nonstick Cookware Safely
So, should all of us who regularly cook with non-stick pans throw them all out? Not necessarily, though there are safer alternatives available that are free of reactive chemicals such as ceramic, cast iron, glass, Pyrex, stoneware and high quality stainless steel. These would be great items to add to this year's Christmas list!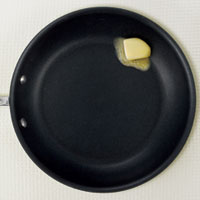 If you choose to keep your nonstick cookware, it would still be advisable to discard any with scratches in the surface, as Teflon particles, along with leached aluminum, can end up in consumed foods. Replace them with higher quality nonstick cookware that will not scratch or degrade so easily and be certain not to use metal utensils so that they remain scratch free. Another precaution is to never leave empty non-stick cookware on high heat for more than a minute. Tests indicate a generic nonstick frying pan preheated on a conventional electric stovetop can reach temperatures in excess of 700 degrees in as little as three minutes. It is when the temperature exceeds 464 degrees (medium heat is 390 degrees) that the coating may break apart and emit toxic particles and gases. When using non-stick cookware, it is best to only cook on low or medium heat. Some other precautions to follow are to wash nonstick cookware by hand using nonabrasive cleaners and sponges. Also, never stack non-stick cookware on top of each other. Lastly, keep pet birds out of the kitchen!
Copyright © 2008-2015 Lucinda Bedogne, CNHP, CNC
Read more about the writer: Lucinda Bedogne, CNHP, CNC
---
Post Your Comment...
---