My Husband, My Blessing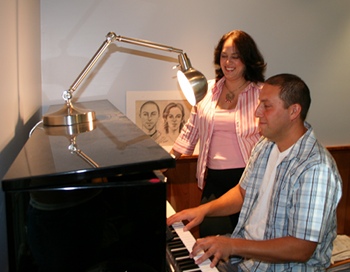 The word of the Lord says, in Genesis 2:20-23, "But for Adam no suitable helper was found. So the LORD God caused the man to fall into a deep sleep; and while he was sleeping, he took one of the man's ribs and closed up the place with flesh. Then the LORD God made a woman from the rib he had taken out of the man, and he brought her to the man." (NIV)
You know, if I am to be really honest with you I would have to say that there are times when I can't stand the job that God gave us women, the job of "helpmate." It seems that I not only have to keep the house together, take care of the kids and the dogs, volunteer at the kids' school, and help out with the worship ministry at church, but on top of all that, I then have to take care of my husband's needs and even help him with his business. Sometimes when I get overwhelmed, I begin to wonder if maybe I got the short end of the stick with this helpmate deal.
Yes, my children help with chores and my husband tries to accomplish all the "honey-do's" that I ask of him. Even in that, I have to be the organizer and planner of it all. I have to tell them what to do and then supervise it so that it gets done. It's the same thing week after week. You'd think by now that they would just do what needs to be done without supervision and give me a break.
Well, this article is not one of kid and husband bashing, but one of hope. You see, I have been preparing for a worship concert of my own. It has been a feat, but I'll save that for another article. Anyway, as I have been spending many hours in preparation for the concert, not only physically but also mentally, my husband has just really stepped in to take care of the many things I cannot do, and, he's doing them without contempt but with a desire to help me in accomplishing something that is very important to me.
My husband is a landscaper and so this time of year is his busiest and it's not very convenient for me to be doing a project so big at this time. However, there he is, helping the kids with homework, running to the grocery store to get a few ingredients I need for dinner, helping me design flyers for my concert and asking the guy at the auto shop to post it on his wall. It has been amazing to see that even at his most hectic time he has become my helpmate.
Oftentimes when Mike asks me to do something for him, I'll reply with, "sure, I'm your helpmate." Yesterday, when I asked him to do me yet another favor for my concert, he said, "sure, no problem." I began to immediately thank him for all his help and encouragement. There's just something within me that feels sort of guilty for not being his helpmate right now and I felt I needed to express my appreciation and gratitude. As I was thanking him, he smiled and looked at me and said, "I'm your helpmate." My heart just melted. He truly is and has been my helpmate and I thank God for the opportunity of showing me that I am not the only one that makes great sacrifices for those I love.
Copyright © 2008-2015 Christina Messer
Read more about the writer: Christina Messer
---
Post Your Comment...
---