God's Good Herbs - Red Raspberry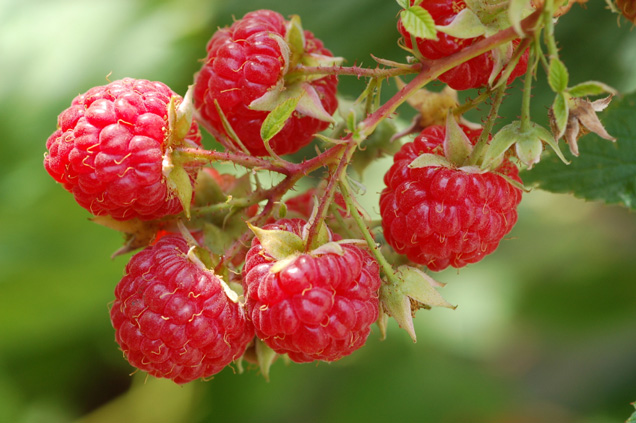 The red raspberry is normally thought of as a popular summer fruit used in juices, fruit salads, jams, syrups and various desserts and pastries. Besides the wonderful nutritive benefits of the fruit, the leaves of the raspberry plant possess astringent and stimulating properties that have been used in herbal remedies for hundreds of years.

Benefits to Women

There are many senses in which raspberry leaves could be considered the "Women's Herb," as they bestow a special source of benefit to a woman in regulating her cycles, and helping her body during pregnancy, labor and childbirth. A renowned English Quaker herbalist by the name of Henry Box once said, "A tea made from red raspberry leaves is the best gift God ever gave to women."

Raspberry leaves benefit women in many ways, especially during the childbearing years, by:


Providing a rich store of nutrients that strengthen uterine muscles
Helping to alleviate menstrual cramps by calming uterine cramping
Regulating irregular menstrual cycles and lessen heavy flow
Helping decrease the symptoms of PMS and hot flashes
Helping prevent and relieve the nausea of morning sickness
Enhancing lactation processes of the expectant mother
Toning and strengthening uterine muscles before and during childbirth
Relaxing the smoothing muscles of the uterus as it contracts, making labor less painful and less time consuming
Decreasing uterine swelling, afterpains and hemorrhaging following childbirth
Strengthening and enriching a mother's milk in the post-delivery period

Raspberry leaf extract contains ferulic acid, a uterine relaxant that helps to ease menstrual cramps. Because it is also able to stimulate the muscles that support the uterus, it assists menstrual flow as well as labor contractions. In studies conducted in Australia to determine the safety and effectiveness of raspberry leaf during labor, no adverse side effects to mothers or babies were observed.

In addition, those women who used raspberry leaves were less likely to have a Cesarean section, and the number of deliveries using forceps was reduced by 35 percent, in comparison to women who did not use raspberry leaf.

Some herbalists believe that raspberry leaf is mild enough to use throughout the duration of the pregnancy while others believe it should be used regularly only during the last six to eight weeks to prepare the uterine muscles for labor and delivery. Because raspberry leaves act as a tonic to both relax uterine and pelvic muscles and stimulate uterine contractions, there is concern that use prior to the last trimester could induce a miscarriage. The authors of "Prescription for Nutritional Healing," James Balch, M.D. and Phyllis Balch, C.N.C., state that raspberry tea can be used during the first trimester of pregnancy as long as it is consumed no more than twice in a week and no more than two cups in any given day. They also recommend that a woman using raspberry leaf do so under the supervision of a knowledgeable physician.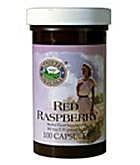 Rich in Nutrients and Anti-oxidant Power

The fruit of the raspberry plant is rich in Vitamin C, an important anti-oxidant, as well as various B-vitamins and minerals such as calcium, magnesium, potassium, and iron. It is also especially rich in levels of manganese, a key trace mineral that facilitates various metabolic processes in the body. The raspberry also provides plentiful amounts of insoluble fiber in the form of its tiny seeds. Further, it is an excellent source of pectin, a soluble dietary fiber that helps to control cholesterol levels.

A study published in the international scientific journal, "Biofactors" (Vol. 23, pp. 197-205), reported that raspberries contain almost 50 percent more antioxidant activity that strawberries, three times that of kiwis, and ten times the antioxidant activity of tomatoes. Antioxidants are dietary substances that can prevent oxidative damage in the body's cells or repair damage that has already occurred from neutralizing free radicals. Raspberries are abundant in a category of phytonutrients which have significant antioxidant effects in the body. Among these are powerful flavonoids that work as anti-microbial agents to prevent the overgrowth of certain bacteria and fungi in the body (such as Candida), as well as counteracting free radical damage.



Other ingredients called Tannins make up over 65% of its anti-oxidant capabilities. One of the most prevalent of these tannins is ellagic acid, a compound thought to inhibit the growth of cancer cells. When animals diagnosed with cancer ate a diet rich in raspberries over a period of weeks or longer, it was found that cancer cell proliferation was inhibited. Ellagic acid is found in raspberries in larger amounts than any other plants known to be high in this compound.

The tannins in raspberry leaf also help alleviate diarrhea by producing an astringent effect on irritated intestinal walls and reducing the flow of fluid into the intestines. A cup of raspberry leaf tea can be drunk several times a day to control diarrhea. Raspberry tea can also help to settle the stomach and allay nausea and vomiting. It is valuable in giving nutritional support to the body when fighting colds and fever as well. When the tea is used as a mouth rinse or gargle solution, the astringent action of raspberry can prove beneficial for conditions such as sore throats, inflamed mouth, bleeding gums, thrush or canker sores.

Usage Guidelines

The leaves of the raspberry are most commonly used in a tea though raspberry leaf is also available in capsule or liquid tincture form. The tea can be prepared by pouring a cup of boiling water over one to two teaspoons of finely cut raspberry leaves and steeping it for 10-15 minutes. It is important not to let the tea, itself, boil. Raspberry leaf teabags can be purchsed online or in health food stores or other stores which carry herbal teas. In capsule form, a typical dose would be about four to six 0.5g capsules per day or, if used in liquid form, 10-30 drops of tincture three times a day.

Conclusion

We hope you enjoy the delightful taste of this wonderful summer fruit, the red raspberry, but now will understand all the health benefits it offers as well.
Copyright © 2008-2015 Lucinda Bedogne, CNHP, CNC
Read more about the writer: Lucinda Bedogne, CNHP, CNC
---
Reader Comments...
2009-07-10 17:29:00
"Excellent article Lucinda! Do you know of a company that sell the tea, or is it better to grow red raspberries and do it fresh?"
- Nancy
---
Post Your Comment...
---