God's Good Herbs - Red Clover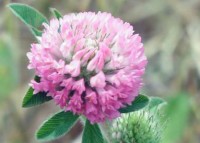 Red Clover is a perennial plant belonging to the pea family, which grows wild in meadows and fields throughout North America and Europe. Its dainty reddish-purple blossoms are attractive to bumble bees that draw its nectar to produce the clover honey we enjoy. Red clover is sometimes referred to as "trefoil" because of the threefold formation of its leaves, which was associated by Christians with the doctrine of the Trinity during Medieval times. This plant is commonly used as a cover crop to increase the nitrogen content of farmland as well as a popular animal feed, due to its nutrient-dense greens and edible blossoms.

Powerful Properties

Besides being edible, the leaves and sweet blossoms of red clover possess numerous properties that can be used to prevent and correct an assortment of physical conditions. Red clover is a valuable source of many nutrients: B vitamins (such as niacin and thiamine), vitamin C, vitamin E, beta-carotene and minerals (such as calcium, chromium, magnesium, phosphorus, potassium, selenium, iron and manganese). The most unique effects that red clover can have on the body, though, come from its various constituents, the most powerful of which are isoflavones. Although soy is known for its high isoflavones content, this particular constituent is found even more abundantly in red clover.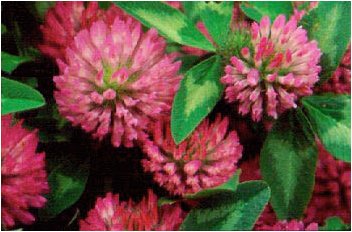 At least four types of these powerful natural chemicals identified in red clover are thought to contribute to its capacity to stimulate the immune system, balance hormones, support cardiovascular and bone health (particularly in menopausal women), and reduce the size of cancerous tumors by preventing the growth of new blood vessels that feed them.

Red clover has a long history of being used in cancer treatment and prevention. In many cultures, alternative cancer treatment formulas and protocols include red clover because of these isoflavones and their anti-tumor properties. Although it has been used successfully in this country for more than 100 years in alternative health therapies, little conclusive evidence on the effectiveness of red clover in the treatment of disease exists, since scientific studies involving its use have only recently been launched.

Help with Balancing Hormones

PMS and other estrogen-related symptoms experienced by women, such as hot flashes during menopause, can be relieved by using red clover due to significant levels of isoflavones. Isoflavones belong to a larger class of plant-derived estrogens known as phyto-estrogens, which have a balancing effect similar to certain hormones. These compounds bind to hormone receptors and replace natural estrogen because they bear a strong resemblance to the body's natural hormone molecules.

This same type of effect can lessen the progression of developing estrogen-dependent cancer of the endometrium (lining of the uterus). Additionally, it can potentially blocking potent estrogens that often exist concurrently with breast cancer. Pre- and post-menopausal women can benefit from taking isoflavones extracts from red clover without risking the many side effects of synthetic estrogen replacement therapies. Not using synthetic estrogen has the added benefit of helping prevent the immune system from being worn down by repeated attempts to deal with foreign substances that it cannot recognize.

On a cautionary note, the isoflavone component of red clover with its anti-estrogen properties may interfere with the effectiveness of birth control pills and therefore should also be avoided by those who are pregnant or breast-feeding. Also, women being treated for breast cancer with certain drugs that work to prevent estrogen from reaching a tumor should not use red clover, since the isoflavone compounds could thwart that action. Some warn that those at risk for breast cancer or other diseases caused by excess estrogen should not take red clover, but there are no conclusive studies to indicate that is the case.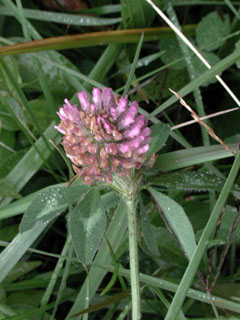 The estrogen-like effects of the isoflavones in red clover also may be beneficial in slowing down and protecting bone loss in post-menopausal women. When asked, most people would probably say that women with osteoporosis suffer more fractures to the hipbone than anywhere else. This is not the case, though, as more fractures occur in the lumbar region than in any other. In a randomized, double-blind, placebo-controlled trial completed by 177 women in the United Kingdom, those who received isoflavone supplements from red clover over a period of a year lost significantly less lumbar spine bone mineral content (BMC) and bone mineral density (BMD) than those who received the placebo. This would imply that extracts of red clover isoflavones, along with known measures involving exercise, dietary strategies and supplementation, could provide a feasible alternative to conventional synthetic estrogen therapies in post-menopausal women.

Heart Related Benefits

Red clover also contains elements of coumarin, chemical substances that prevent blood from becoming thick and sticky. This substance can help to prevent the formation of blood clots and arterial plaque that could reduce or block blood flow and lead to a heart attack or stroke. Improved overall blood circulation is an additional benefit of these substances. Since red clover is considered a natural blood thinner, people taking anticoagulant and antiplatelet medications should consult with their doctor before taking this herb, as red clover could increase their effects.

The cleansing properties of red clover help to purify the blood by helping to move lymphatic fluid. It also acts as a diuretic to rid the body of excess fluid and impurities. It also helps the liver in the elimination of toxins from the bloodstream by the liver by increasing production of bile acids. Since a good portion of bile acid consists of cholesterol, increased production also can mean that more cholesterol is utilized and less is available to circulate in the bloodstream, which can result in healthier levels of both types of cholesterol. Some studies found increased HDL ("good") cholesterol levels and stronger, more flexible arteries in pre or postmenopausal women who regularly took red clover supplements, but other studies yielded inconclusive overall results regarding the benefit of red clover to cardiovascular health.

Additional Benefits and Usage Guidelines

The antispasmodic and expectorant properties of red clover help to loosen phlegm and calm bronchial spasms, making it an effective ingredient in herbal cough formulas for relieving dry, irritable coughs. It has historically been used to treat pertussis (whooping cough). When directly applied to the skin, the relaxing effects of volatile oils in red clover serve to soothe, calm and moisten, which helps to alleviate chronic skin conditions such as rashes, sores, eczema, athlete's foot and psoriasis. It can also soothe sore and inflamed throats when used as a gargle. Its mild yet deep action makes it perfectly safe for both young children and the elderly.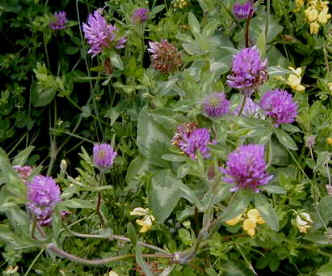 The use of red clover has resulted in no reported serious side effects in humans, although there have been claims to headache, nausea and muscle pain with prolonged use of large doses. As mentioned earlier, it is an estrogenic herb and should not be used by women who are pregnant, breast-feeding and, possibly, those who have cancer related to excess estrogen.

Red clover may be taken in various forms. The most traditional method is to consume it as a tea by adding a cup of boiling water to two to three teaspoons of the dried flowers and letting it steep for ten to fifteen minutes. No more than three cups of the tea should be consumed in a day. If is being used to fight cancer or other disease, it is recommended that it be consumed on an empty stomach before bed and again on an empty stomach in the morning.

It is also available as a tincture that may be taken several times a day in the amount of two to four milliliters each time. A more convenient way is to take capsules, which contain the equivalent of two to four grams of the dried flowers in each capsule. Extracts are available as well that are standardized to contain a precise amount of isoflavones. It is important to only purchase red clover that has been gathered in the wild or organically grown.

Sources:


Nature's Pharmacy by Steven Horne
Practical Herbalism by Philip Fritchey
http://www.herbwisdom.com/herb-red-clover.html
http://www.woodrow.org/teachers/bi/2000/Ethnobotany/red_clover.html
http://health.howstuffworks.com/red-clover-herbal-remedies.htm
http://www.naturalnews.com/025089_red_clover_estrogen_isoflavones.html
http://findarticles.com/p/articles/mi_m0ISW/is_255/ai_n7637385/
http://www.medscape.com/viewarticle/468944
http://www.all4naturalhealth.com/red-clover-benefits.html
http://www.answers.com/topic/red-clover
http://www.isoflavones.info/red-clover.php
http://www.healingcancernaturally.com/red-clover-flowers-anti-cancer.html
Copyright © 2008-2015 Lucinda Bedogne, CNHP, CNC
Read more about the writer: Lucinda Bedogne, CNHP, CNC
---
Post Your Comment...
---