Brotherly Love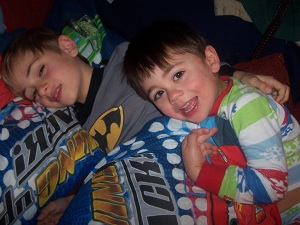 I grew up with two sisters but no brothers, so that's all I've ever known, until I had two sons of my own. What a difference there is between boys and girls. I know my boys love each other, but at times they fight like crazy. . .wrestling, hitting, and punching each other is just normal protocol.
While visiting the grocery store the other day for my weekly shopping trip, I had to take all three kids with me--what was I thinking! My oldest daughter was fine, not a problem. She listened to me and didn't give me any problems; however, it was a different story with my three and six-year-old sons. From the time we got in there, they were hitting each other, hanging on the cart, which made it extremely hard to push, and fighting with each other verbally and physically. I threatened them with taking away videos, but that didn't work, I even told them I would give them a TREAT if they would stop and behave. Nothing seemed to work. What normally would have been a one-hour shopping trip, turned into a two-hour ordeal.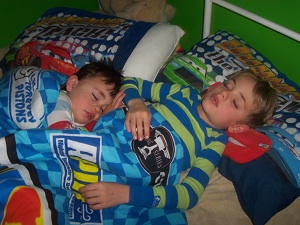 As I was picking up my produce and about to head to the check out aisle, an older lady in front of me turned around and smiled at me-- at this time I felt like I was looking a little haggard and depleted. She said, "Oh they are so sweet and they're being so good." I looked at her in surprise and tried to explain that they had been anything but angelic, but she didn't seem to hear my frustration. As she turned to leave she said, "Enjoy this time; they will be grown before you know it."
Even though it may seem like an eternity as we are going through a storm with our kids, if we just stay the course and keep our eyes on the Lord, He will see us through. Motherhood can be difficult at times, but I wouldn't trade one day of it. I know this is a season of life that I'm in and I want to enjoy it to its fullest. God tells us that He will be with us every step of the way if we learn to trust him wholeheartedly.
When I stop to realize it, my sons do love each other! As you can see in these pictures of them. They just have a unique "brotherly" way of showing it sometimes.
Copyright © 2008-2015 Amy Turner
Read more about the writer: Amy Turner
---
Post Your Comment...
---