Not in My Timing, But God's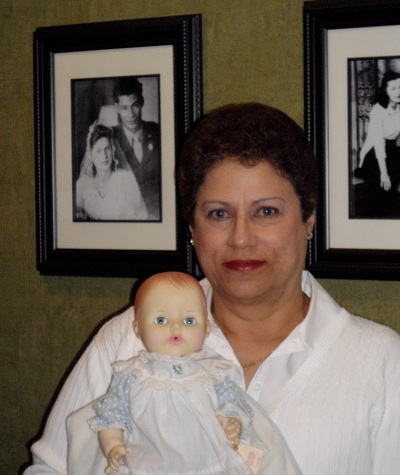 My father was a hard man to live with. He would always have something negative to say to us kids and was never supportive in any thing we did or wanted to do. My mother was the one who attended our sports games, graduations, and plays. Each of my siblings has his or her own stories to tell about Dad, but these are mine.

A Crippled Child

When I was a year old, I was struck with polio. My right leg was two sizes smaller than my left and I would have to walk on my toes on my right leg. When I was five, I had leg surgery to lengthen the cord in my right leg to correct this. After my parents brought me home from the hospital, my dad told me to take a nap next to him on the sofa and to wake him up if I needed to go the bathroom since our only bathroom was upstairs and I needed help getting there. When I had to go the bathroom, though, my dad had just fallen fast asleep and I did not want to wake him up—part of me was scared! The other part of me wanted to show him I could do it by myself. So, I tried to climb the stairs alone, but I made it to the very top step and then fell all the way down to the bottom.
My dad woke up when he heard the commotion and was so mad. The cast on my leg had cracked the whole way around the entire ankle, which made it very painful when I walked with my crutches. The first thing my dad said was, "Good for you! If you would've listened, it wouldn't be hurting now." I had to live with the pain for two more weeks until my next appointment. When I finally got to my doctor's appointment, the doctor cut off my cast and was upset with my parents for leaving me that way for such a long time. My leg was being pinched at the leg and there were blood blisters all around my ankle.

A Harsh Man

My father was also harsh in his punishments. He loved food, a few foods in particular, and there were some favorite things that were for him only. He loved custard pies and would sometimes give us a little sliver of a piece, but he would keep a big plate of pie in the refrigerator for himself. His other favorite was pickles, If it looked like someone had eaten his pie or his pickles, he would punish all of us by making us all sit around the table and eat a chili pepper without water. At other times, if he thought we stole something, he would put our hands over the fire of his cigarette lighter or the kitchen stove.
One day in the third grade, I received a D in math on my report card. My father sat me in a chair and asked me how I got a D on my report card. I really did not know why or how I had gotten a D, so after a couple of seconds, I answered, "I don't know." My dad slapped me right out of the chair. He told me to get up and get back in the chair and then asked me the same question again. After about 30 seconds, he yelled at me, "Why the D?" Again I said with some hesitation and fear, "I don't know" and I was slapped out of the chair once again.

My Special Doll

My father also would not let me play with my brothers. My sister, Karin, lived with my grandparents and I was the only girl at home with three brothers. Dad would say, "Leave the boys alone. They are boys and you are a girl; boys and girls don't play together." Since I could not play with my brothers, I loved my doll, a Betsy Wetsy doll, and she went everywhere with me. I hugged her and loved her. Yet, when I was about six years old, my family visited with my aunt and she told my dad that she had been looking for a Betsy Wetsy doll for her daughter and could not find one. So, before we left to go back home, my dad gave away my doll to my cousin. I was devastated and wanted to cry, but I tried to stop myself since, if we ever embarrassed my dad by making him look mean or wrong, he would get very mad at us. Later that day, my dad said he would get me another Betsy Wetsy doll, but my aunt replaced my beloved doll with an ugly soft plastic doll with old mattress stuffing inside. My dad also bought me another doll, but it was not a Betsy Wetsy doll either. My heart was broken and I wanted my baby doll back.

Words and Actions Affect Children

All of these experiences with my dad taught me that what parents say and do affects their children. Sometimes parents may think that their kids are too young to remember the things they have done or said out of anger. Yet, even when we parents discipline our children, we need to be careful of our words and actions because we are the writers on the slates of our children's lives.

Children Copy the Habits of Their Parents

I have also learned that many children grow up to copy the habits of their parents. When I was grown up, I visited my Aunt Ginny in Hawaii and shared with her how I hated my father and told her these same stories and more. It was then that my aunt told me that the punishment with fire was something that my dad had learned from his mother. She shared that my dad once had a job working in the sugar cane fields in Hawaii as a little boy. He had to give most of his money to the family except for 50 cents that he could keep for himself. After a long time, my dad had collected enough money to buy himself a brand new bike. When he brought it home, his sister, Angie, asked if she could ride it, so my dad agreed but made her promise not to wreck it. She took off on the bike, but didn't know how to stop, so she fell off and messed up his bike. I don't know what kind of damage there was, but my dad hit her and she ran and told my grandmother. My grandmother came up to my dad to spank him, but he ran away. When my dad returned home, my grandmother grabbed him and took him by the fire, picked up a piece of wood, and burned the bottom of his feet to teach him not to run away from her.

Deeper Understanding Brings Compassion

When I heard this story about my father's growing up and the discipline he had received, my heart just broke; he had been doing the same things he learned from his parents. I know that my dad had been punished much harder than we ever had been, but what happened to us still was not right. With a desire to see my father change, I mustered the courage to stand up to him and ask him some tough questions about my childhood.
I was 26 years old and still afraid of him, but I still asked my dad when we were alone if he ever loved me and was he embarrassed of me because I had polio. My father just stared at the television while his foot wiggled from nervousness. After a few seconds, he said, "If I didn't love you, I would not have taken you to the doctors to see about your polio." That was not enough of an answer for me . . . Then, I told my dad that I knew about the bike story and told him I was sorry that he had such a hard life as a young boy, and how I wished that someone had put him in their lap and told him how proud they were of him and how handsome he was. I looked at my father and there were streams of tears running down his face. He was still looking at the television, but tears were definitely falling.

Showing the Love of Jesus

Well, as I raised my children, I made mistakes, too, just like every parent, but my children always knew that they were loved. I did my best to tell them how special they were and love their necks whenever they would let me. I told my kids whenever we visited my father and mother, to go in their house and first thing, to kiss grandma and grandpa and tell them that you love them. I wanted my father to see in us the love of Jesus because he was not a Christian and even mocked me as a "holy roller" when he learned I had gotten saved. He said that Jesus "was bologna," and that "men wrote the Bible."
As my father aged, my daughter, Christina, unbeknownst to me had been praying to God that He would give her grandfather some kind of illness when it was time for him to die, not something that lingered on, but something just long enough to know he was dying, where there just might be the chance for him to need the Lord and reach out for salvation, a "death bed conversion," so to speak.
Then, one day, my dad was diagnosed with stomach cancer; we were devasted. I thought that certainly my father was going to die without being saved. Still, I kept praying to God and believing that His Word says that if I was saved, then "so shall my household be saved." Mom was gone and living with Jesus already, but Dad would be lost. I told God that I was standing on His Word and that my dad was a part of my household and I wanted him to be saved.

Praying for Salvation

Dad was diagnosed with the cancer just after Thanksgiving. My sister was taking care of Dad while I went with my daughter, Christina, and her family to Virginia for the Christmas holiday to visit my son and his family. We were going to bring my son, John, back with us so he could see his grandpa before he died. I didn't realize my dad was as close to death as he was, and while we were traveling in the RV, I got a call from my youngest daughter Carrie. She said that grandpa was getting worse and she was going to his house to lead him to the Lord. She wanted us to pray so my father would be receptive to what she had to say. We all prayed and Caiti, my five-year-old granddaughter heard us praying and began asking questions about what was going on. We explained that Auntie Carrie was going to Great Grandpa's house to lead him to the Lord. Caitlin had just received the Lord as her Savior on our trip to Virginia and that night; my dad received Jesus as his personal Savior, too!

Love Never Gives Ups, Love Never Fails

My sister called and said that my dad was fading fast and was asking for JoJo (that's me). I got on a plane on Christmas Eve and went home. I went to my father's bedroom and he told me that the doctors couldn't save him. Then I laid down next to him and said, "It's okay Dad, you're going on a wonderful journey and if I could go with you and share this experience, I would. But it is not my time yet." I told him that he would see Mama and my husband, Ron. I told him that God's Word says to be absent from the body, is to be present with the Lord (2 Corinthians 5:80 KJV). I just laid next to him and held his hand. Dad died the day after Christmas 2002.
God does keep His Word. In His time and not mine my father was saved. He's now with family, friends, and God the Father, Jesus, and someday me. Oh what a joy that will be, when my Jesus I shall see. God is so good. Don't stop praying for your family and loved ones. Every time you doubt, start praising Him for the miracle He is going to do.
Oh yes, just a side note, when I was 29, I told my father how I felt about him making me give up my baby doll. A week later, I received my new Besty Wetsy doll in the mail. I am so thankful I never gave up on my dad.
Copyright © 2008-2015 Jo Treinen
Read more about the writer: Jo Treinen
---
Reader Comments...
2010-06-30 14:30:41
"Thank you, Jo. It's impossible not to love you."
- Carolyn
2009-10-03 09:22:57
"Jo, what a wonderful story of love and forgiveness. Love and obedience to your heavenly Father and forginess for your natural father. Thank you for sharing those hurts with all of us. I had just been thinking this moringing before I read your article how some people can rise above their childhood and make such good parents.
You are an example of that. "
- Martha
---
Post Your Comment...
---