Football Family Fun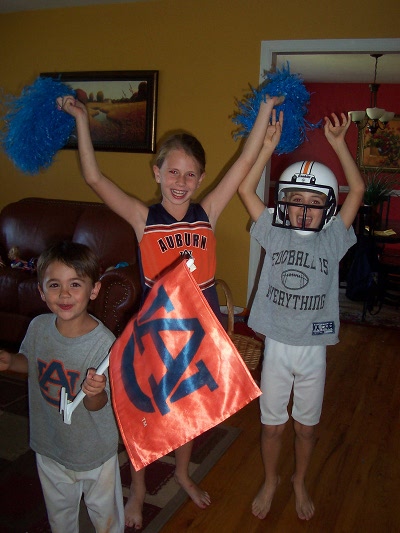 Whether or not you like football, it's just something you need to understand about our culture.
WAAAAAAR EAGLE!!!!! It's the battle cry of the Auburn Tigers football fans. Yes I have to admit it I'm an Auburn Fan now, after marrying my devoted (life stops, everything comes to a hault) husband.
We're talking serious business! Come football season in Alabama you'd better have your flag waving on your porch or your car-- or better yet, both! And you'd better be decked out in your favorite team's gear from head to toe just so everyone knows who you are pulling for.
Alan grew up only 30 minutes from Auburn University, so he and his Dad follow the team religiously. . . keeping track of scoring, any coaching changes that need to be made, and they're the first to hear of any new recruits that Auburn may be getting!
So as you can see this is a tradition my husband loves and looks forward to every year. Needless to say he has already incorporated our kids into this crazy, but fun tradition.
This year the kids have really enjoyed watching the Auburn Tigers play. Everyone usually decks out in their Auburn gear, I usually make popcorn, cookies, or maybe chips and dip. We have our own little shindig going on. The kids love it! They eat 'till their heart's content, stuffing their little faces with goodies--sometimes staying up a little late-- all in an effort to cheer on our favorite team. Even when our team is down, the kids are still excited and pumped that they are getting to be a part of something big!
I'm pretty sure Auburn will be calling soon and asking my husband to come join their staff, he is always full of great advice and knows exactly what play we should be running AT ALL TIMES—(know what I mean?).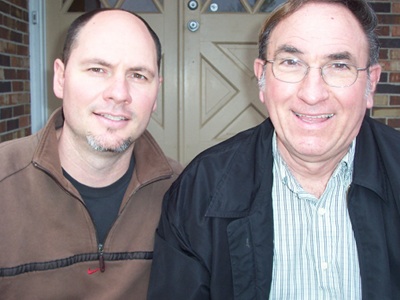 Alan (Amy's husband), and his dad.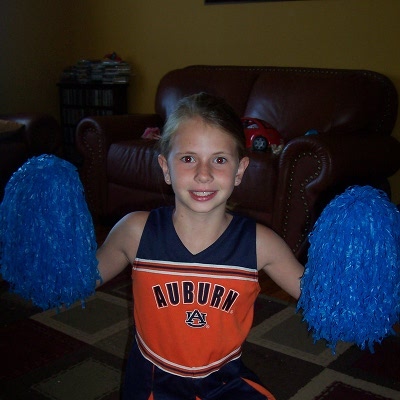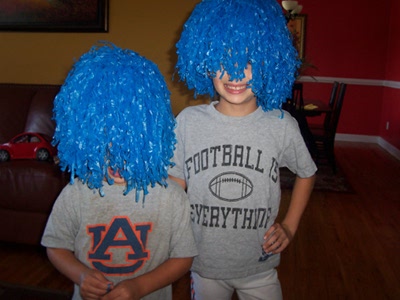 Copyright © 2008-2015 Amy Turner
Read more about the writer: Amy Turner
---
Post Your Comment...
---